Whether we like it or not, autumn (and winter) is on its way, bringing cooler weather and darker nights with it. But what better way to embrace this seasonal shift than with some cosy living room updates?
Today, we're going to be sharing some interior design tips on how to pull off a cosy living room design. Taking the lead from some of the latest seasonal trends (as well as timeless upgrades), we'll give you all the ingredients you need to cook up a snug and soothing living space.
Go bold with neutrals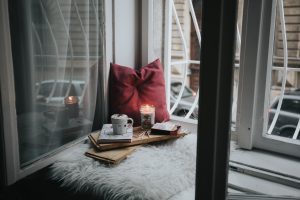 Photo by Alisa Anton on Unsplash
Neutrals aren't typically renowned for their statement-making capabilities, but this year that's changed.
Neutral hues like beige, grey, taupe and terracotta are standout colours this season and can make a refreshing change from cooler colour palettes like white. Mirroring the natural world outside, they bring an earthy, warm feel that's perfectly timed for autumn.
To optimise their visual impact, keep the overall colour palette simple. Pairing one anchoring neutral hue with a complementary shade can help to break up block colours, giving it a softer, layered look.
For a classic comforting finish, soft clay-coloured walls with ivory woodwork and accents can transform your living room into a sumptuous space. For a more modern vibe, use eye-catching feature walls to show off your neutrals, like a pale grey wallpaper colour paired with a blush pink or an on-trend mustard yellow.
Turn up the heat
With cold weather on its way, getting your living room heating just right is key to creating the ultimate hunkering-down haven – and nothing makes a living room feel cosier than a real fire.
With the ability to command attention, fireplaces provide a natural focal point for living rooms of any size, so it's time to make them roar.
For a practical and stylish option, a striking wood burning stove is guaranteed to give your living room that all-star treatment.
Whether you opt for classic black or gorgeous green, a stove that radiates style and heat is never a bad addition to your living room design, helping you to enjoy all the visual beauty of a roaring fire without the worry of a sooty hearth.
Embrace autumnal shades
Neutral hues are primed for giving living rooms a grounded and cohesive base, but unless you're going for a monochrome masterpiece, there's always room to add some popular autumnal shades.
To keep the colour palette warm and welcoming, why not introduce flourishes of spice-inspired hues like burnt orange, turmeric, mustard yellow and mulberry that match the natural colour changes outside?
Alternatively, give your living room a luxury edge using stunning jewel tones like cobalt blue and emerald green. Perfectly matched to pale grey or taupe, these rich hues are guaranteed to indulge the senses.
To ensure these hues don't overpower the room and take the vibe from soothing and serene to busy and bold, use them in moderation as accents through your selection of accessories and soft furnishings.
Snuggle up with layers
During the cold, dark winter nights, we all crave (and deserve) some extra comfort. The introduction of different textures can be just what's needed here, giving your living room a layered look that feels like a giant hug every time you enter the room.
To pull this off without the finished look feeling frumpy and cluttered, choose your fabrics and furniture wisely. These can be statement pieces like a new sofa covered with soft, sumptuous and on-trend boucle, velvet or corduroy.
Alternatively, use accent pieces to do the leg work, creating an indulgent and inviting space. A new statement rug, extra sofa cushions, throws and assorted accessories will create a wonderfully layered look.
While contrasting textures and finishes work well, you need to find the right balance, so don't be afraid to play around with your positioning and fabric options before deciding on your final design.
Giving your living room some TLC this autumn could be the ideal way to ensure your home epitomises comfort when the cold sets in.
Whether your living room's due a full overhaul or you just want to make a few updates in time for winter, we hope these ideas give plenty of seasonal inspiration to create a cosy and charming space.
For more information on living room ideas, check out our additional blog here.
Author bio
Alex Jones is a content creator for 1ClickWallpaper – one of the UK's leading online suppliers of affordable wallpaper and decorating supplies, offering a huge online range of wallpapers, paints and decorating essentials.