Increasingly people are turning to wood-burning stoves to create warm, comforting, and restorative spaces — hugely beneficial at the best of times, but particularly during this period. A wood-burning stove can be the beating heart of a happy household, a focal point to gather round and converse or sit silently while absorbing the hypnotic and healing power of glowing flames. In this blog we will look at how carefully considered fireside accessories can be wonderful furnishings in their own right and enhance the fireside experience even further.
A Fresh Coat of Paint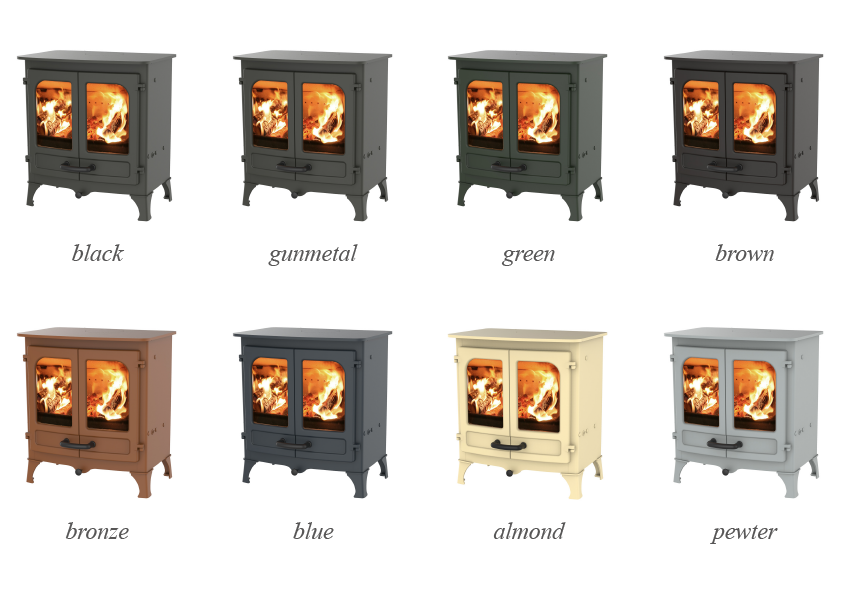 Whether you want to match your stove's colour to your latest renovation project or simply give your stove a touch up, we offer cans of our high temperature stove paint in the 8 Charnwood colour options. Designed for easy application, they are a simple yet brilliant way to give your stove and space a new lease of life.
Vlaze Panels
Vlaze is a unique material, both in its capacity to resist heat and protect, but also with the aesthetic potential it offers. It is well proven as a fireside accessory, with exceptional durability and thermal resistant properties. Vlaze is colour-fast, allows for printed graphics and offers limitless scope for design. With unrivalled heat resistant and anti-static properties, a Vlaze panelled surface will stay looking clean and sharp.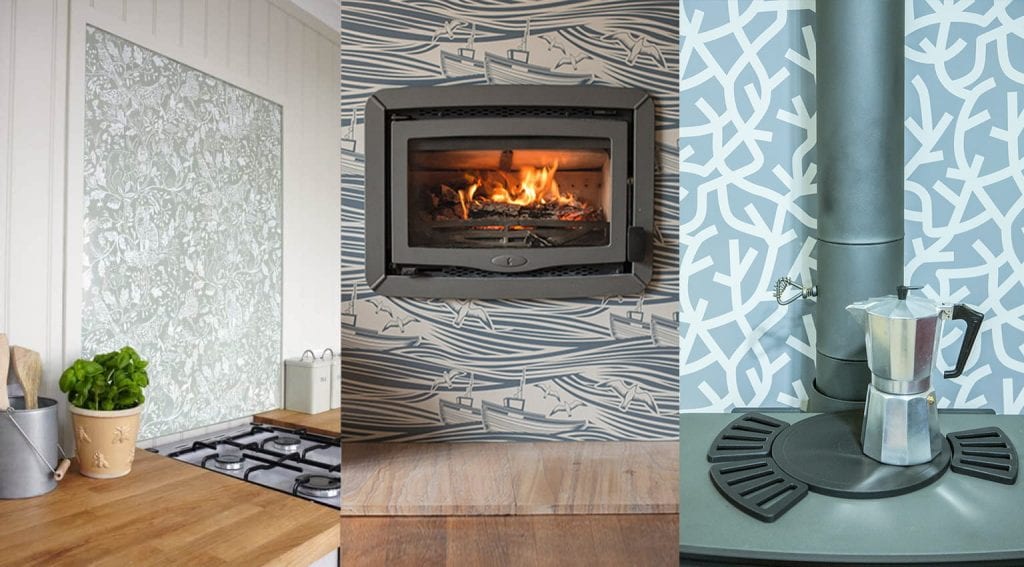 Heat Shields
The design of this heat shield is one of 30 finishes that allows you to add real character and satisfy your aesthetic impulses.
The vitreous enamel panel features a dual skin that provides thermal protection and an effective convection system that distributes heat back into the room.
Our rail mounted system included allows for quick and easy installation and when installed the shield reduces the stoves distance to the face of the panel to 95mm. In the case of a Charnwood stove this is reduced to just 75mm which is a vast improvement on HETAS regulations and really allows you to maximise the size of your space.
Vlaze Insert Surrounds
The designer finish of this stunning insert surround adds so much to the look and feel of the space. A beautiful backdrop to your wood-burning stove, whether the flames are flickering or not. Made to measure in one piece to fit around any insert stove, preventing cracking and discolouration on the chimney breast. They feature a slim 9mm radius edge insulated with fire rated fibre board, minimising intrusion into your space, supplying a neat and elegant finish.
Vlaze Hearth and Chamber Plates
We love this Forest Design hearth and chamber plate. This contemporary design offers a clean, modern platform on which to stand your stove. An excellent alternative to glass or polished stone they can be used on their own or alongside our heat shields and insert surrounds for a seamless floor to wall solution.
The smooth gloss surface finish is heat resistant, easy to clean and is available in over 30 colours & designer finishes. Each hearth features a smooth radius edge and is insulated with fire rated fibre board to take the heat and weight of the stove.
Our hearth plates are available in 5 sizes which is suitable for most stoves and are constructed to a solid 12mm depth which conforms to UK building regulations for non constructional hearths.
Bodj Accessories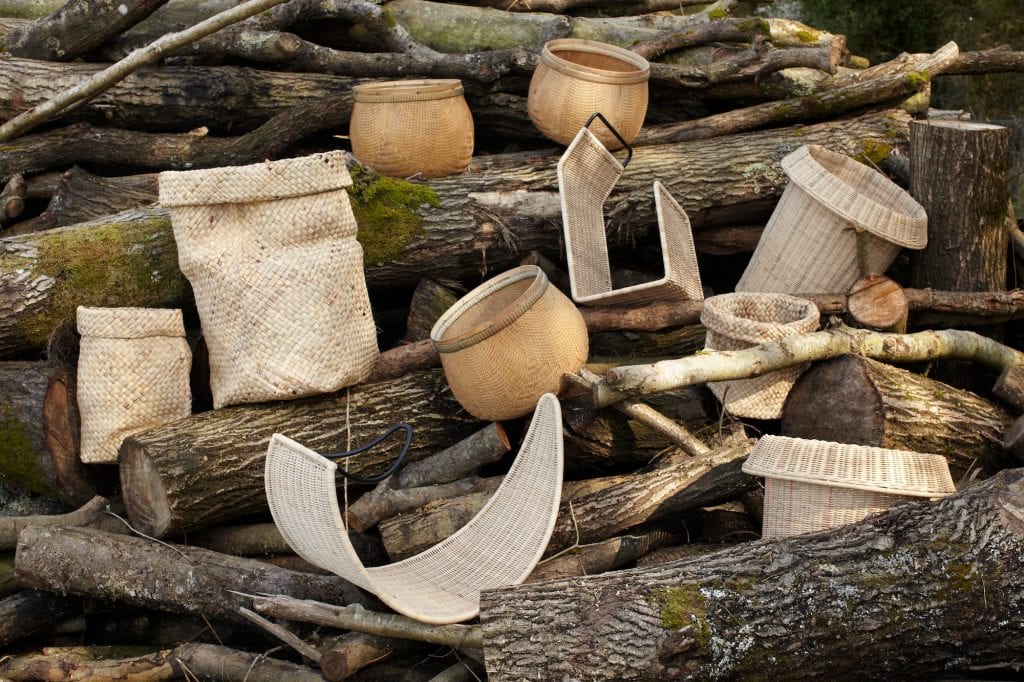 The beautiful range of Bodj fireside accessories above are a perfect complement to your fireplace. The minimalist, elegant lines married to high-quality natural materials, create fireplace furnishings that add style and sophistication.
Bodj is a fair-trade initiative that aims to develop local Cambodian businesses in order to relieve poverty and improve social and environmental conditions for the future. They produce a range of sustainably sourced, beautifully designed fireside accessories for the ethical and style-conscious home.
_____________________________
Having the perfect fireplace at the heart of the home involves careful consideration of all aspects of the process. A beautiful stove is unquestionably the most crucial element, however choosing the right accessories can have a significant impact on performance and your personal satisfaction.
For frequent fireside inspiration, we encourage you to follow along with our Instagram accounts @charnwoodstoves and @vlazesurface.