We are looking forward to exhibiting at the Flam'expo Show being held at EUREXPO in Lyon, France from the 21-23 of March 2023. Flam'expo is the leading wood energy event in France and will be a wonderful opportunity to meet many of you and enjoy some time with our French Dealers.
Charnwood will be providing an exclusive preview of the highly anticipated Charnwood Haven (one of the first public viewings in Europe) as well as a great selection of our other modern ultra-efficient stove models.
Read on to get inspired by our fabulous range of wood-burning stoves and bring any questions to our stand!
The Charnwood Haven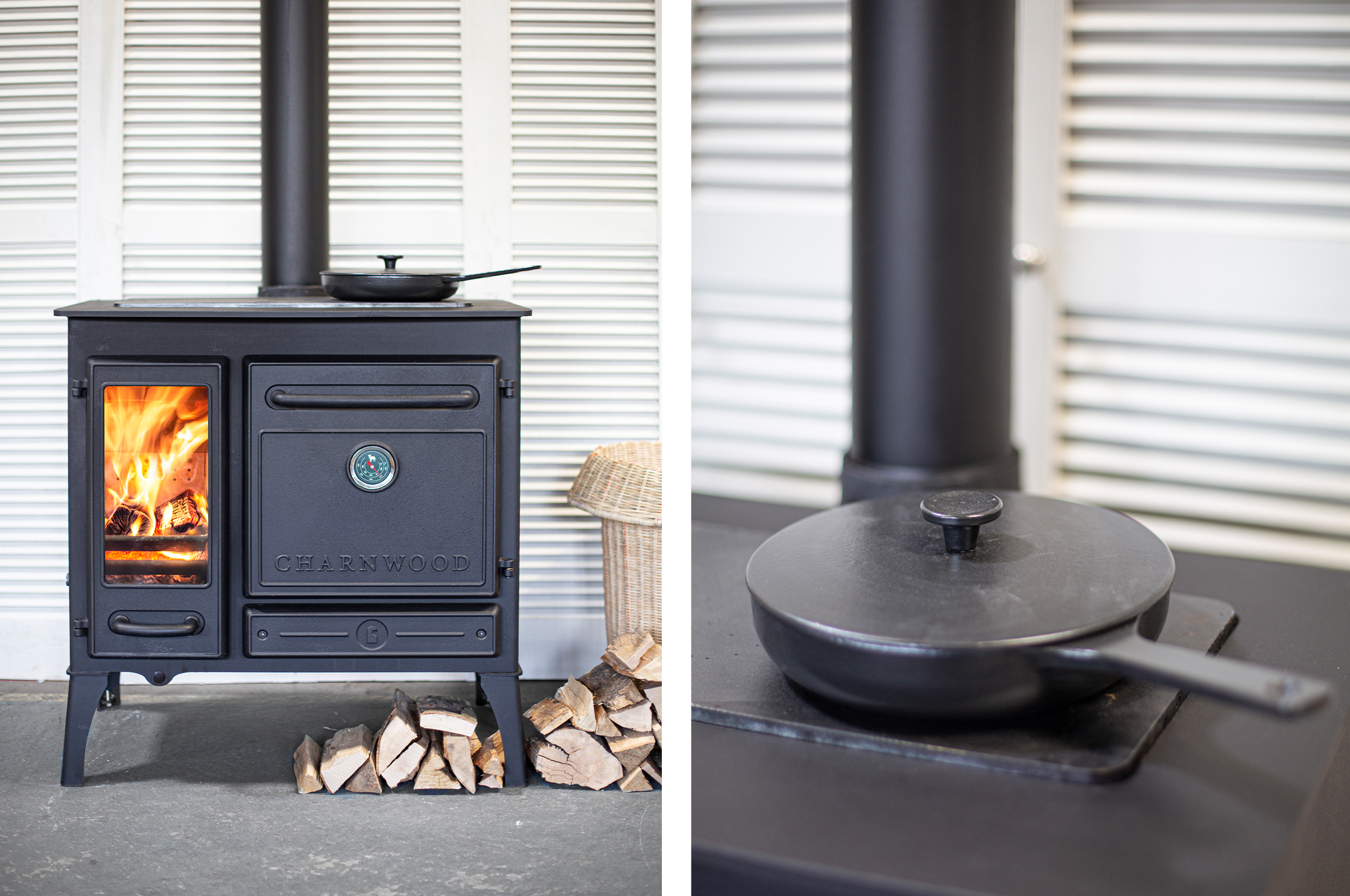 There is a real appetite for a contemporary wood-fired range cooker that combines the charm and functionality of a traditional range with the ultra-efficiency of the latest clean burn technology. The feedback we have received so far has been incredible and we can't wait to hear from our European friends.
The Charnwood Haven is based on the size and dimensions of our iconic Island III model, producing a rated output of 6kW of heat. It comes equipped with a well-sized oven and large hot plate enabling you to cook with a wide array of pots, pans and trivets. The integrated thermometer allows for greater temperature control and cooking accuracy. It's a surprisingly versatile and delicious way of cooking, allowing you to create soups, stews, roasts, baking and more!
The pictures are beautiful, but we strongly encourage you to come and see it in person – it's so impressive!
The Cranmore 3 & Stove Pod
The Cranmore 3 is an ultra-efficient 5-star ClearSkies-rated wood-burning stove, demonstrating 86% efficiency on independent tests. This makes it one of the most efficient stoves on the market today. With a 2-5 kW output, it's the perfect size for most glamping spaces and provides a crystal-clear burn. Easy to operate, with a single air control and removable ashpan, it lends itself to guests that may not have previous wood-burning experience.
The Stove Pod is a freestanding unit that requires no wall attachment. It is incredibly sturdy and features a curved design which directs heat into your space. The steel casing is magnetic, and Charnwood provides tools and cookware that can be attached. The flue support has a convenient warming shelf for plates, pots and pans – perfect for Glamping!
Its available in a matt black hammered powder coat with the option to add a VLAZE vitreous enamel liner for a stylish, easy to clean finish. Again, this is definitely worth seeing in person as photographs can never fully capture the splendor of Vlaze.
_______________
We hope you're suitably inspired! Come along to our stand 2.1H44 to experience all of our wonderful stoves. Our friendly and knowledgeable team will be waiting to chat and answer your questions – we hope to see you there!