Our favourite time of the year is fast approaching! For some it's watching ELF, others their first advent calendar window, for us the festive season kicks off at the Ideal Home Show Christmas event! From the 23–27 November at Olympia London, this wonderful Christmas shopping extravaganza provides everything you need to prepare your home for the festive season.
You can browse and shop from hundreds of brands across 4 Christmas themed show sections; Gifts, Pets, Home and Decorations. There's live entertainment, expert demos, celebrity chefs, and thousands of festive gift, home and food ideas that will leave you feeling festive and ready for the season ahead!
Christmas Past (2021)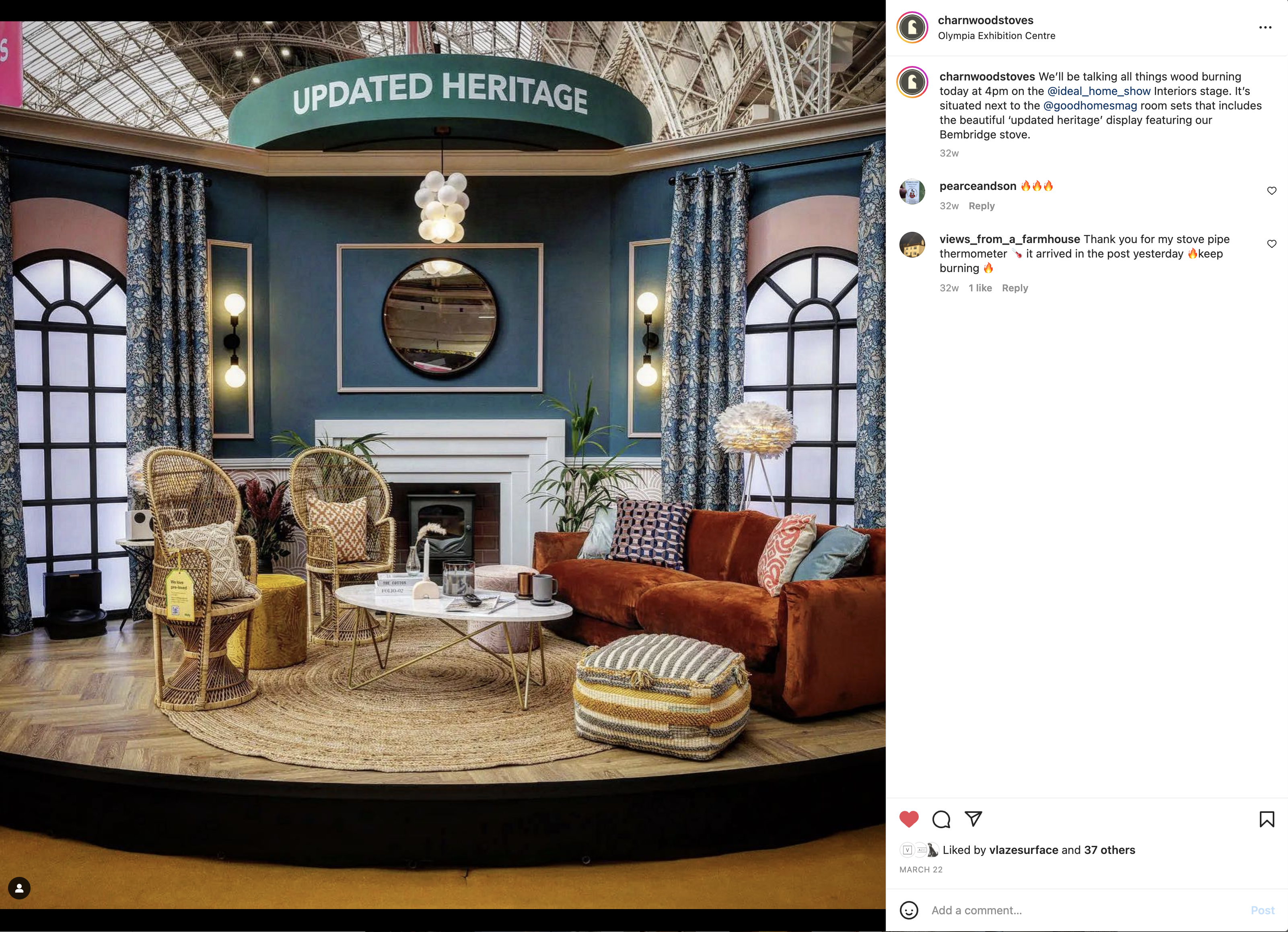 Last year a Charnwood 'Bembridge' wood-burning stove took centre stage in Good Homes Magazines 'Updated Heritage' roomset. The team also gave a talk on the Interiors Stage discussing all the latest Charnwood developments as well as the introduction of EcoDesign regulations. It was wonderful to meet so many of you to chat and answer your questions.
Good Homes Christmas Roomsets
The Good Homes style team return with 4 beautiful roomsets each with their own distinctive decorating scheme. Created in association with Next Home, they are called Scandi Luxe, Arctic Shimmer, Winter Berry and Woodland Jewel.
It's a showcase that delivers for a range of tastes, each providing inspiration to help you fill your home with festive spirit in line with the latest trends. A Charnwood Island I and Aire 5 were selected for two roomsets and the sneak peek photos below indicate a perfect setting for the warmth of a Charnwood wood-burning stove.
Arctic Shimmer x Charnwood Island I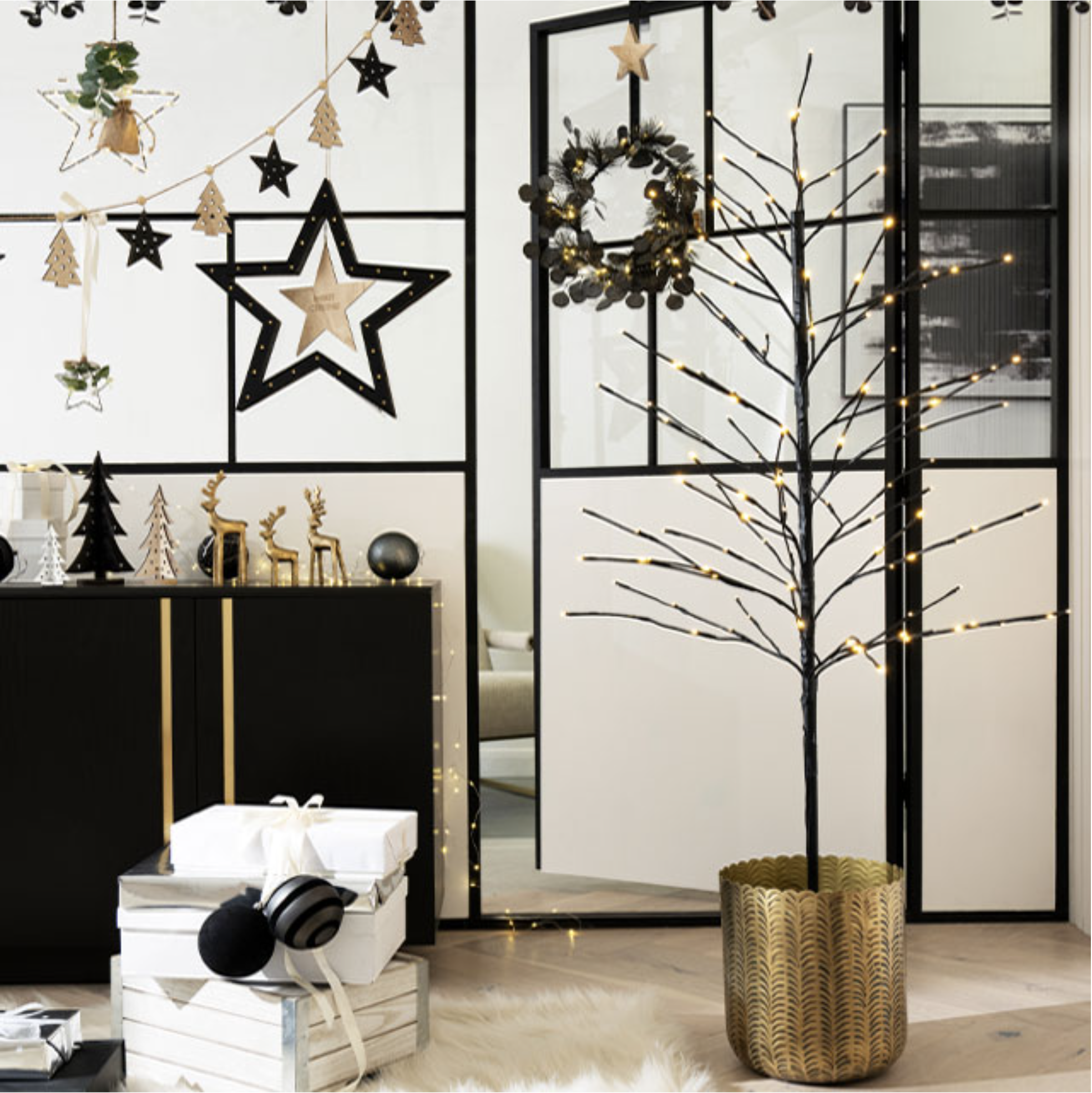 Photo: Next Home
A Charnwood Island I will feature in a serene Arctic Shimmer roomset with winter whites, soft greys and sparkling silver alongside a host of tactile materials.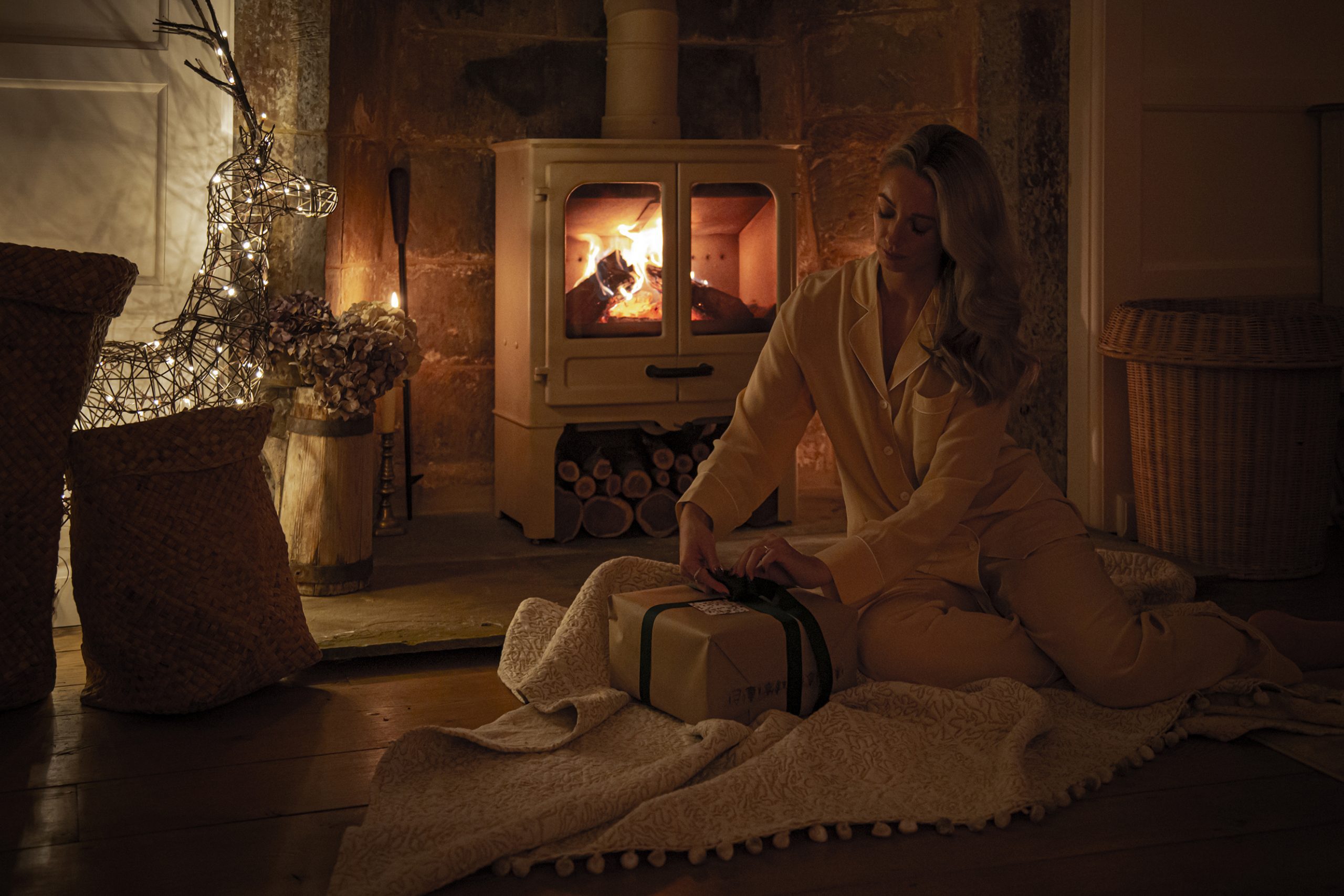 The Island I is the smallest stove in the Island collection, delivering an output of 2-7kW of heat. Its uncomplicated looks and gentle curves ensure it sits well in any situation, be it modern or traditional. This stove meets Clean Air Act requirements with excellent efficiency of over 85% and an extremely low smoke particle level of 9mg/m3 (the Ecodesign limit is 40mg/m3).
Woodland Jewel x Charnwood Aire 5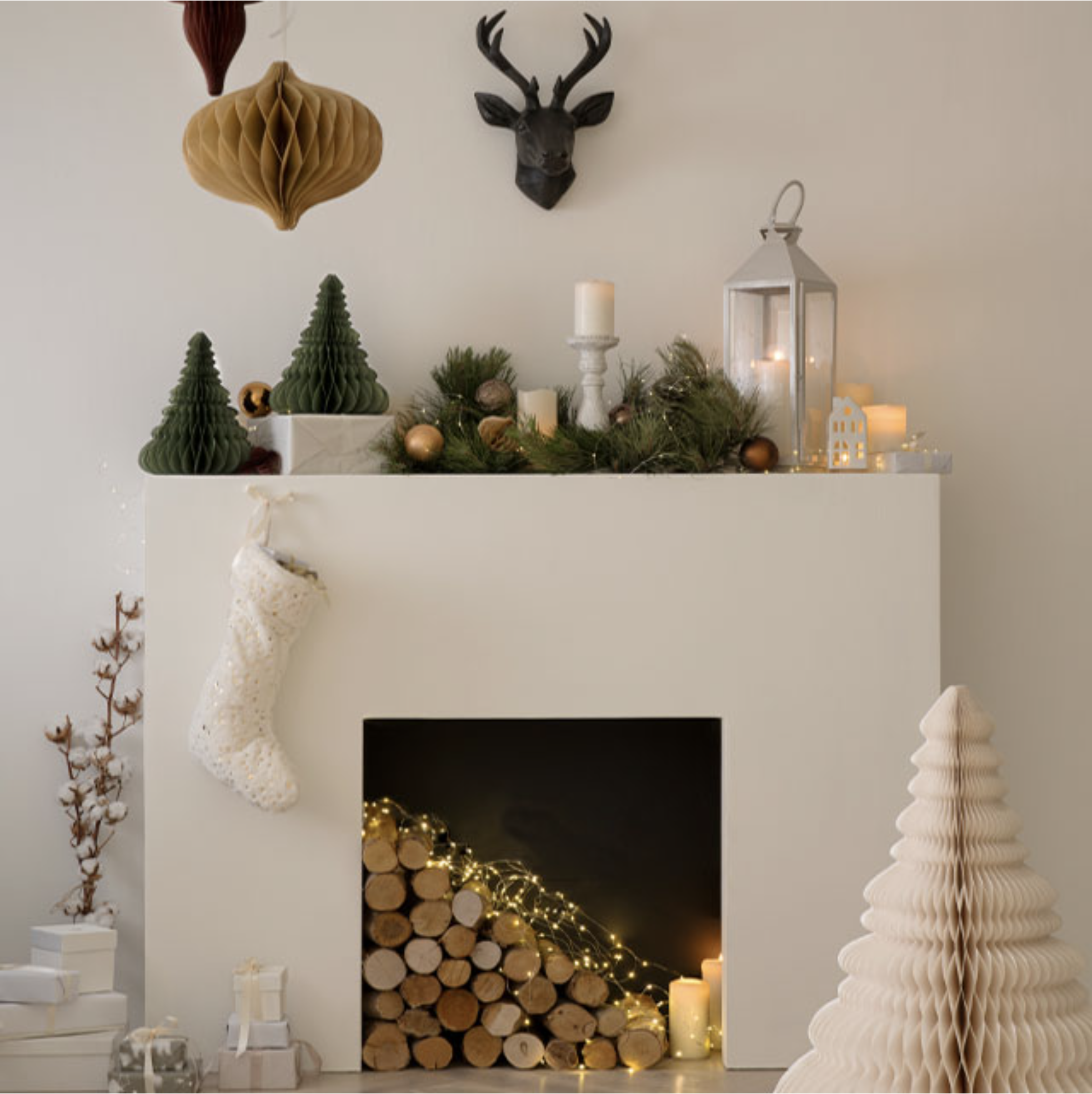 Photo: Next Home
A Charnwood Aire 5 has been chosen to feature in the elegant Woodland Jewel roomset. Comprised of rich colours from dark evergreen hues to on-trend amber paired with tortoiseshell accessories and sumptuous soft furnishings.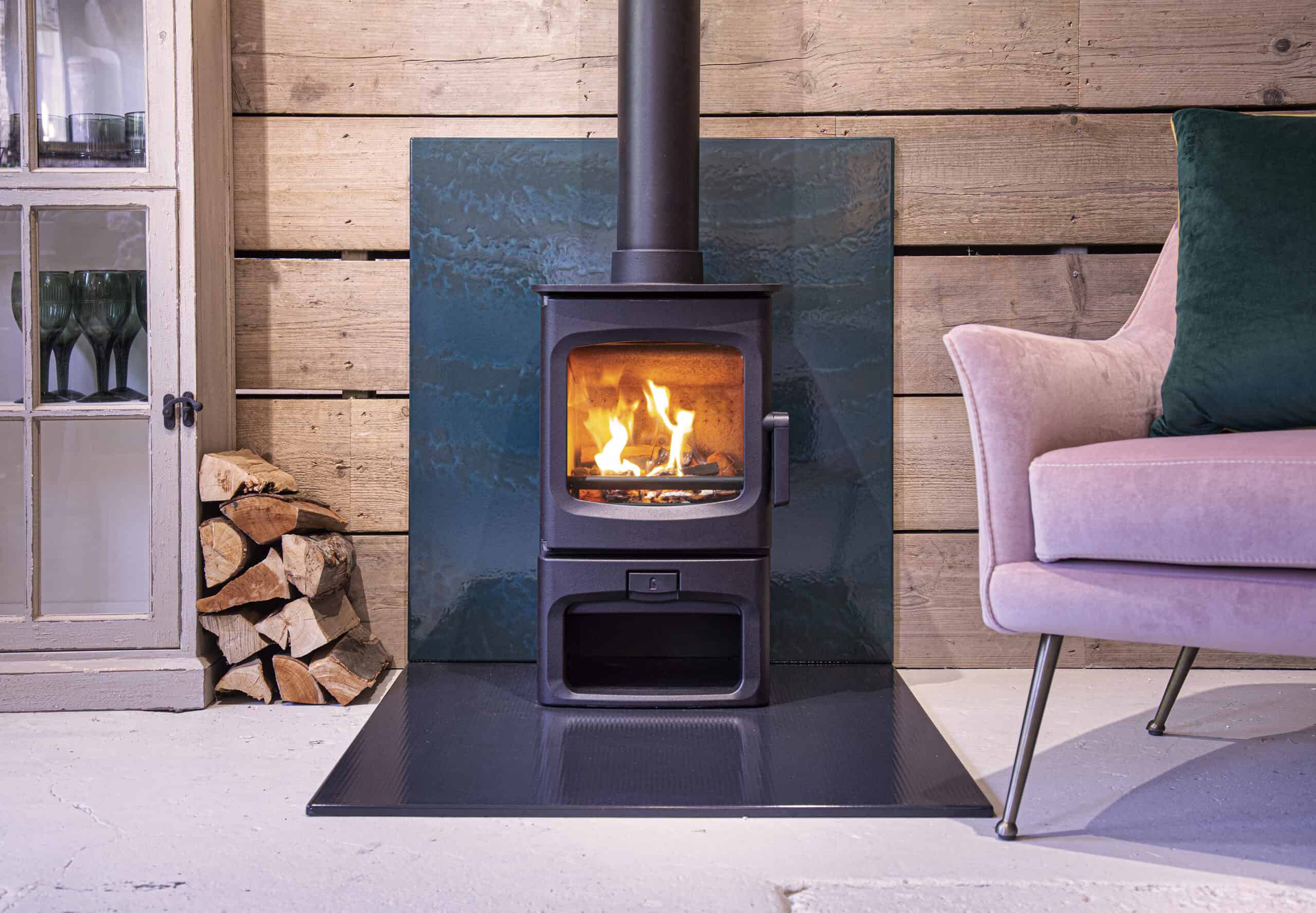 The Charnwood's iconic Aire 5 wood burning stove has been designed to maximise the view of the fire. The minimal styling of the Aire 5 fits comfortably into virtually any fireside situation whether it be freestanding or within a traditional fireplace. The stove delivers a comfortable 2-5kW of heat to the room with a crystal clear burn – a wonderful focal point for the room.
The Aire 5 incorporates Charnwood's unique BLU burning technology. Not only a vast improvement on the new 2022 Ecodesign standards, BLU also meets with Defra exemption limits; allowing wood to be burnt cleanly and safely in smoke control areas.
Vlaze Hearths
Vlaze Hearths will be used to create a clean, modern platform on which to stand our stoves. Vlaze is our sister company and are experts in using porcelain enamel for the living environment and creating luxury fireside products.
The smooth gloss surface finish is heat and fire-resistant, easy to clean and available in a wide range of colours & designer finishes. The hearth plates are available in 5 sizes to suit most stoves and boast a 12mm depth conforming to UK building regulations for non-constructional hearths.
______________
As with Vlaze, the quality of Charnwood Stoves can only be fully appreciated in person. To book your tickets and discover a world of festive delights click here – we hope to see you there!
If you can't make it to the Ideal Home Show Christmas, then we recommend searching for your local official Charnwood stockist here.