A.J Wells fabricates a wide range of products from a variety of high-quality materials across our businesses. Our fantastic team are skilled in a range of processes utilising state-of-the-art technology to achieve our exceptionally high standards. With demand for our market-leading Charnwood Stoves growing year on year, we have recently invested almost a million pounds in expanding and improving our welding capacity.
Read on to learn about our upgraded welding bays as well as our state-of-the-art robot welding arms.
Welding Bays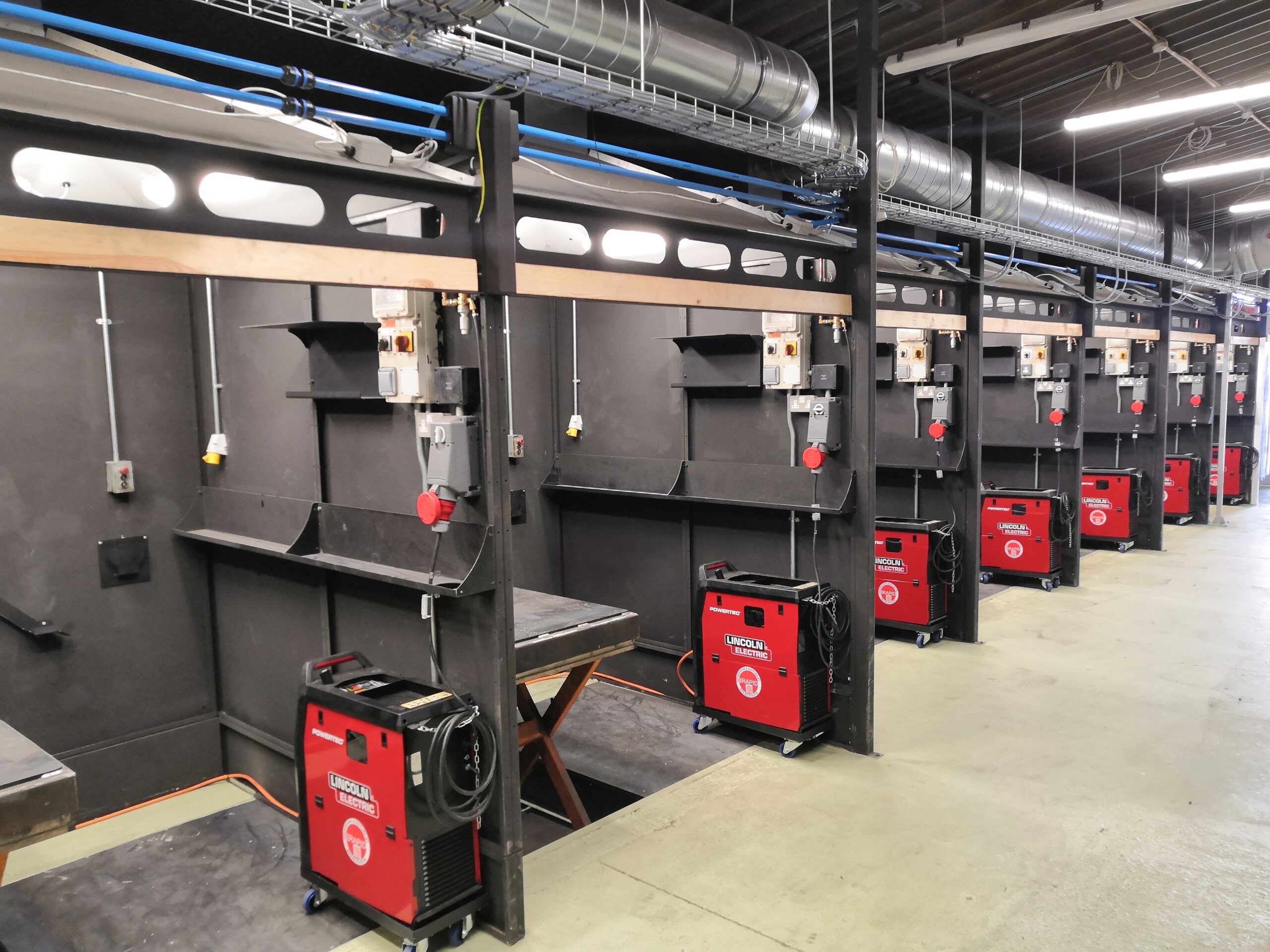 While redesigning the factory the Charnwood production manager and team leaders came together to develop a new design aiming to create the 'perfect' welding bay for the space. A modular, flat-pack approach was agreed upon with individual bays being standardised and optimised for comfort and efficiency.
One of the main improvements involved putting a roof canopy on each bay with extraction from the top. This stops welding fumes leaking out and massively improves the whole factory environment.
In the bay, the placement of all elements were optimised including tools such as grinders, our existing lifting tables, shelfs for clamps and even the radio etc. This was all with a view to maximise comfort for our great team of welders who work long hours in the bays.
Once ideas had been gathered, a prototype was built and the welders tested it out and provided feedback and suggested any changes they'd like made.
Some of the feedback included increasing the height, changing the air inlets, and improving the temperature and the lighting. A significant depth of detail was considered, even analysing shadows being cast and adjusting things accordingly.
The aim was to standardise the bays so that all workers would be familiar with any bay they worked in.
Space for another 5 welding bays to be installed in the near future has been allocated.
Upgraded Equipment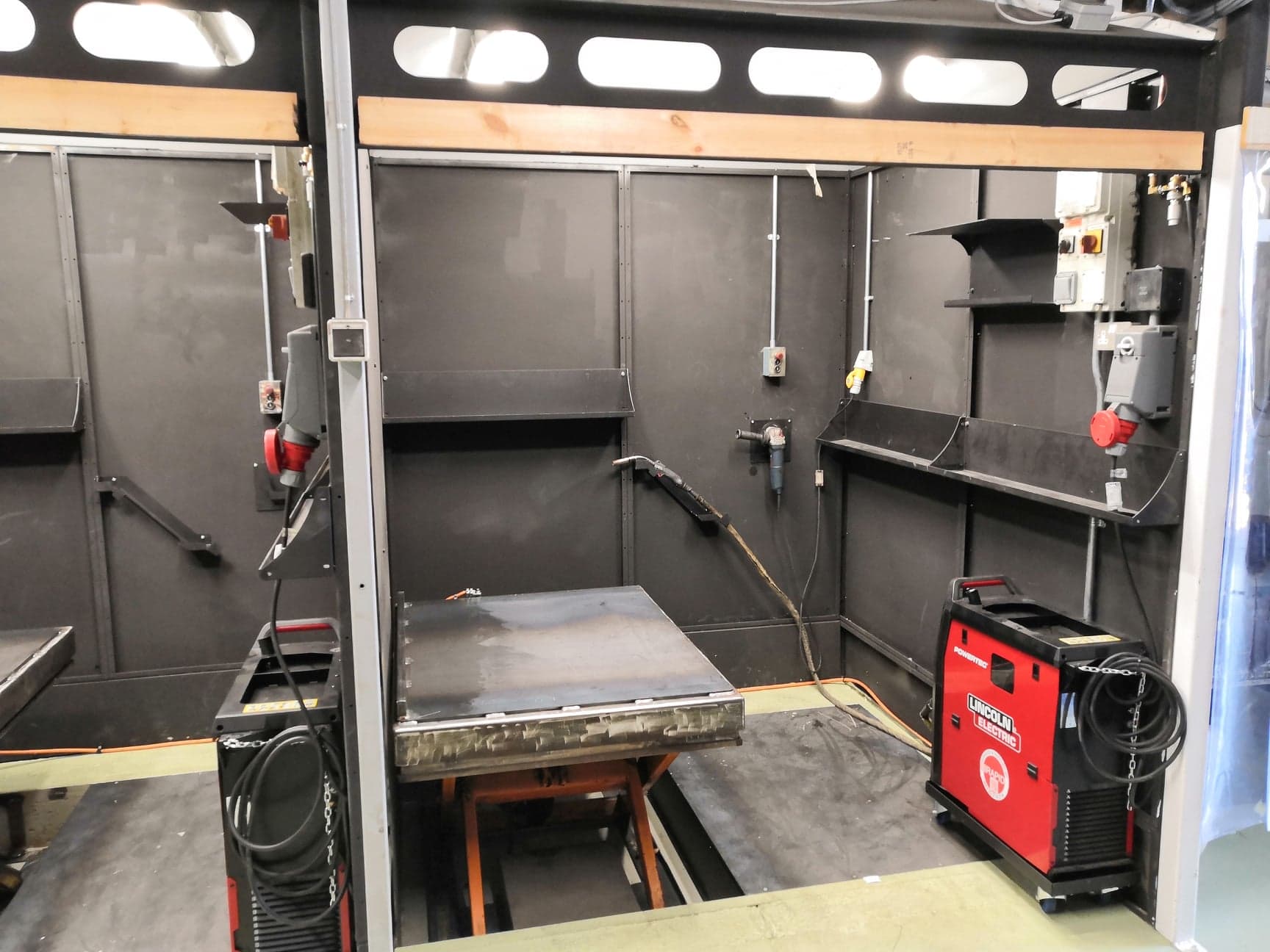 Here are some of the standout features that convinced the team to choose the Lincoln welders supplied by our friends at Rapid Welding:
– They enable our team to achieve high-quality welding finishes
– They are energy saving
– Have helpful preset settings
– Are easy to teach employees
– Lincoln are a high-quality, reliable, brand
What the upgrades provide
These welding bays and new equipment have significantly improved the working environment of the whole factory. Improving the comfort of our hard-working welders and also providing some significant efficiency benefits.
Some quotes from our team of welders now the bays are up and running:
"Nice and bright, the light is a lot better than the old welding bays."
"Nice and compact for what we produce – everything is close to hand."
"Easy access to bring in your work and remove a complete stove from the lifting table using a sack truck. A lot better than the old welding bays."
"The extraction helps so much. It keeps the fumes away from people in the rest of the fabrication shop."
New Robot Arms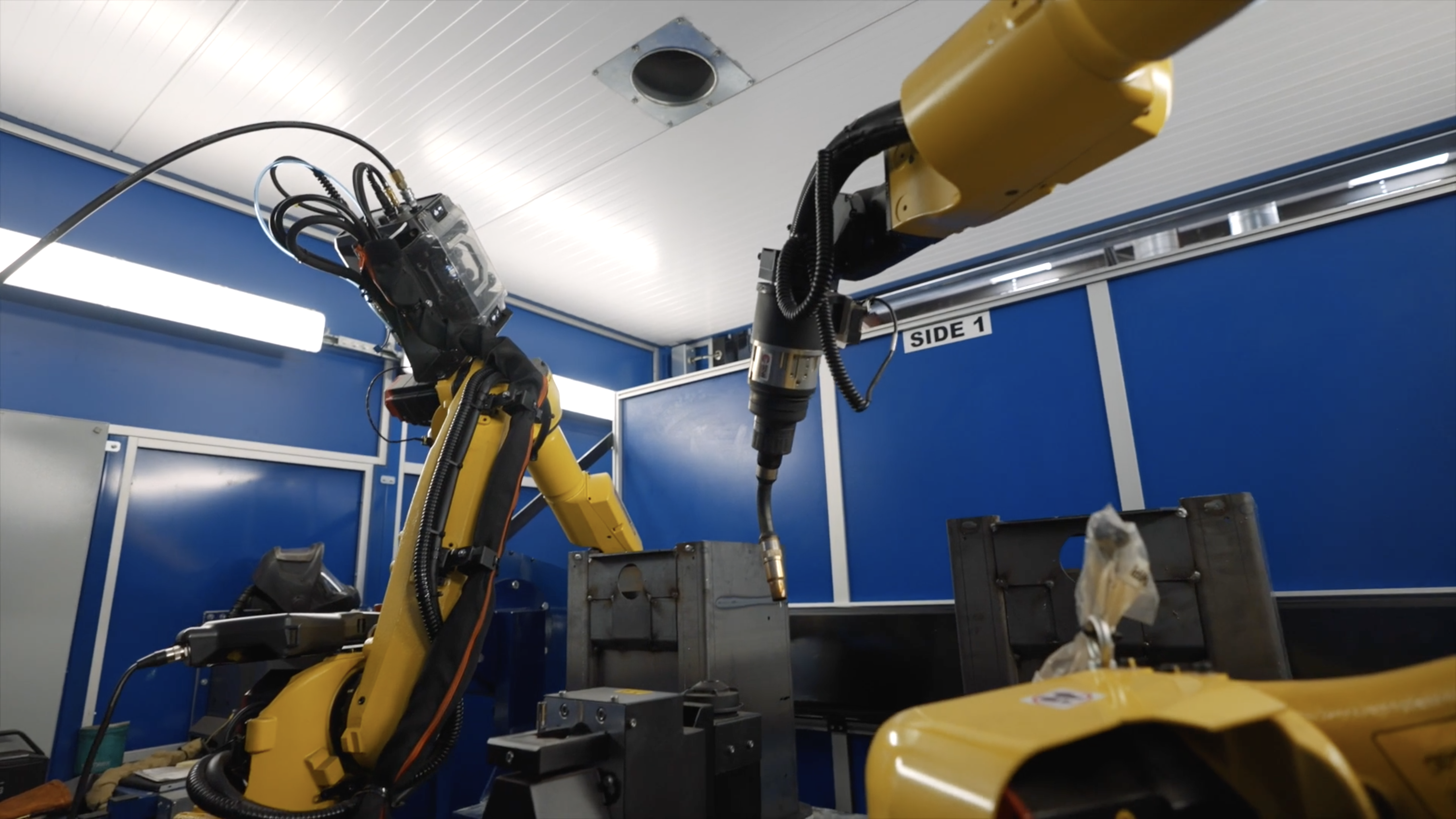 In addition to our upgraded welding bays we have invested in two more cutting-edge robot welding arms.
This has doubled our robot welder capacity from 2 to 4 robot arms and is allowing us to produce stoves at a much more efficient rate. Our skilled robot operators have been working intensively, learning to program new models and learning how these machines work to maximise their output.
These robots produce less spatter with pulse welding, removing the need to spray the stoves with anti-spatter products. This has decreased the amount of processing needed post-weld significantly, which is an incredible boost to productivity, cutting energy consumption, and making it an improved place to work.
_______________
A.J Wells continues to look for new ways to improve the business for our wonderful customers, our fantastic team of hard-working employees and the environment. Our latest investment manages to positively impact all these areas and the size of the investment is testament to the significant growth of the business for which we are truly grateful. Watch this space for the next steps in A.J Wells' journey!
You can get in touch here to discuss your project.