'The Pig – Restaurants with Rooms' are a wonderful group of establishments that have beautiful and nutritious kitchen gardens at their heart. They are committed to home-grown and local produce and celebrate the seasons, using only the freshest and most authentic ingredients. Their chefs work directly with the kitchen gardeners to create menus centered around British garden food of the very highest quality. Some Charnwood team members have been lucky enough to visit and taste their delights while also supplying several of the Pig Hotels with wood-burning stoves.
Read on to learn more about the Pig Hotels and why Charnwood fits the ambience perfectly!
The Pig at Bridge Place
Located three miles south of Canterbury and just 56 minutes by train from central London, is the Pig at Bridge Place. Full of intriguing history, this old building holds a place in music folklore, having hosted events featuring rock gods Led Zeppelin among others.
Secret stairways lead to panelled rooms with endless cosy nooks to hunker down in. Bedrooms have far reaching views out across the Kentish countryside and are characterfully finished with many featuring a wood-burning stove!
The Pig at Harlyn Bay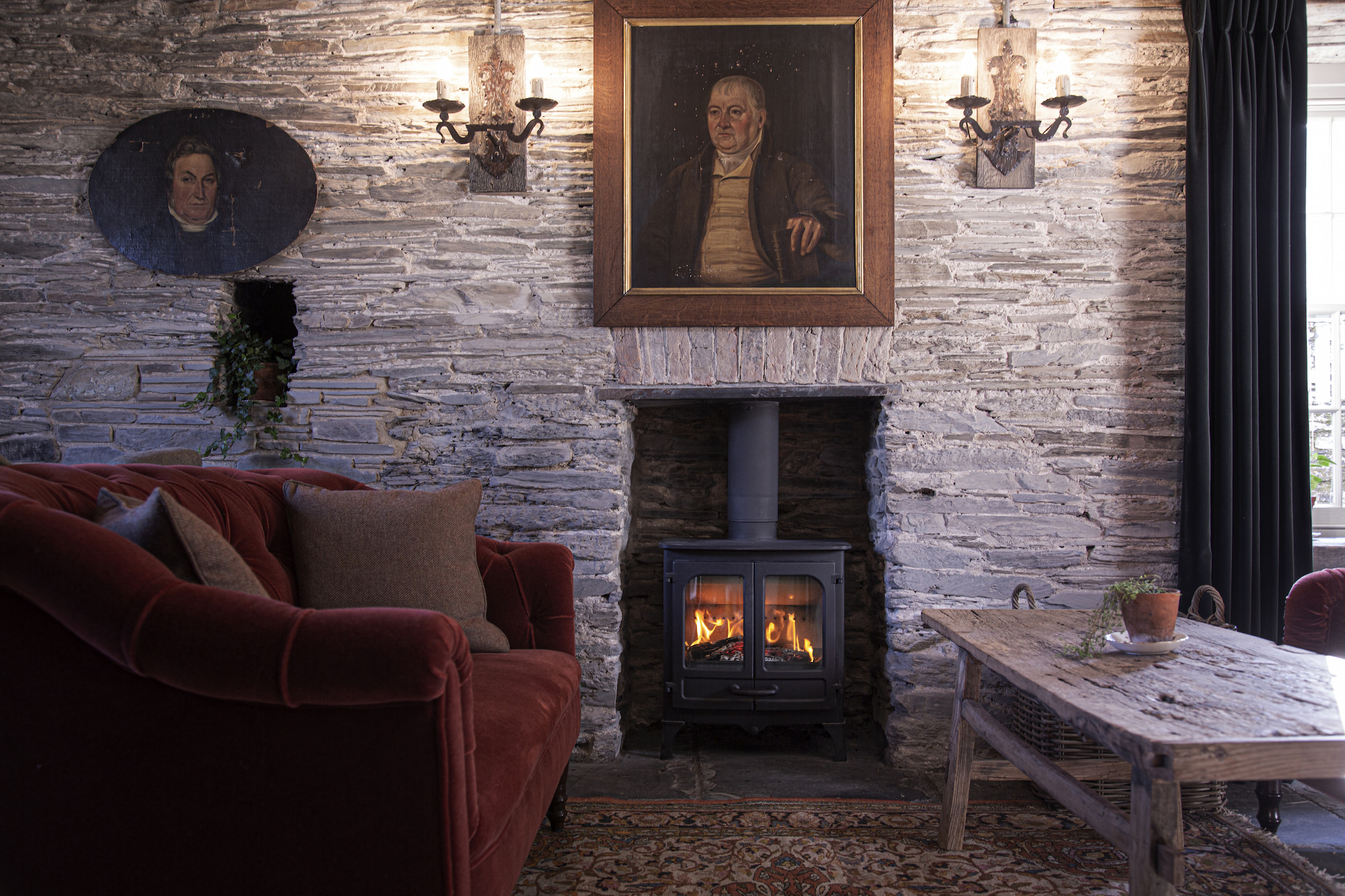 The Pig at Harlyn Bay is in one of the most historic houses in Cornwall, dating back to the 15th century. It has far-reaching sea views and is only 10 mins drive from the famous port of Padstow. With plenty of character, original features and gorgeous gardens, the Pig at Harlyn Bay is a perfect getaway destination to enjoy incredible food and truly inspiring surroundings.
Charnwood Island I, II & III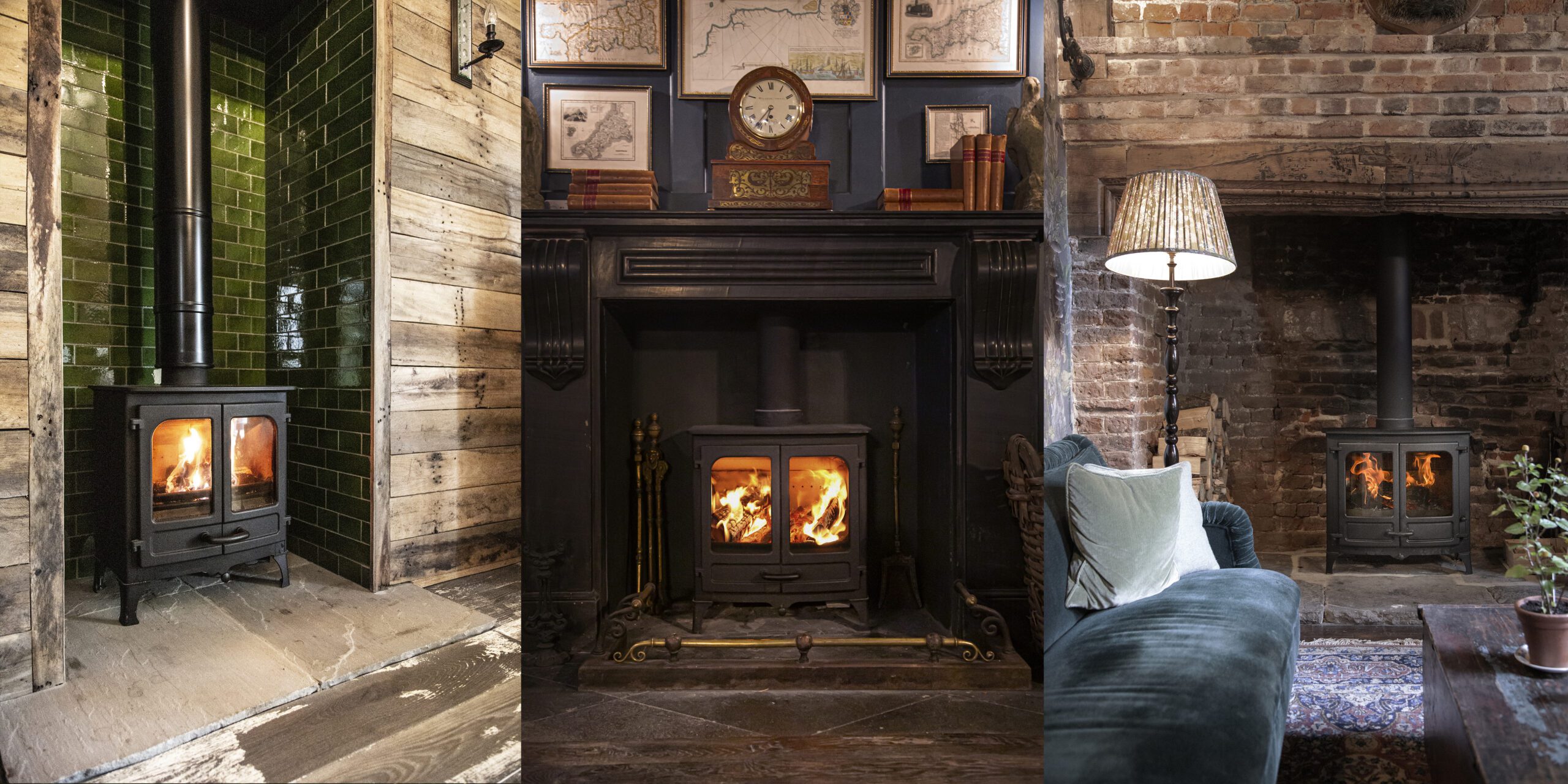 All three Charnwood Island models were chosen to suit different sized rooms. The Island's uncomplicated looks and gentle curves sit well in any situation, from cosy bars, to inviting snugs and quirky bedrooms. The large picture windows offer a spectacular view of the fire for guests and really enhance the atmosphere.
All Island models are Defra Exempt and easily meet Clean Air Act requirements. They have an efficiency of over 85% and an extremely low smoke particle level of 9mg/m3 which easily outperforms the Ecodesign limit of 40mg/m3.
Escapism
Much like staying at one of the The Pig locations, using a woodstove offers real escapism. The process of lighting a fire, then sitting back to enjoy the warmth and crackle of the mesmerising flames, allows one to switch off from everyday stresses quite unlike anything else. A warm fire signifies access to cooking, warmth, and shelter and when these primary needs are catered for, we instinctively feel better about life.
Below are some quotes from our customers from a recent well-being survey that highlights this phenomenon:
"Fire is deep within the human psyche and sits in a happy place in our limbic brain. You get lost from the day to day in a fire – it's a little bit of wilderness in the order of the day to day."
"I've long felt a disconnect between earning money in the corporate world and home life. Here is something with a direct connection – the family stay warm through my simple effort."
"Helps to switch off from the technology that takes over our everyday lives. You feel a sense of achievement when the first sparks ignite."
Ready to discuss your woodstove options?
We strongly recommend that you contact an official Charnwood stockist, where the before and after-sales support will be of a standard approved by us.
If you wish to stay at any of The Pig locations you can make a booking here!