Using your wood-burning stove every day for cooking is not for everyone, however, for special occasions, it can be a real treat and add something memorable to a meal. With Valentine's Day coming up it's the perfect opportunity to do something a little different and impress your partner or just treat yourself if you are on your own this year. Here are a few ideas and best practices for cooking some simple recipes with your stove that will help add a little magic.
A wood stove that is installed using the rear outlet, allowing one of our fantastic cooking plates to be fitted to the top of the stove, is the ideal scenario for regular cooking. This will allow you to cook with a much wider array of pots, pans and trivets and gives more control over the cooking temperatures. It's a surprisingly versatile and delicious way of cooking with soups, stews, roasts and even baking possible. However, for those without this option, there are still some simple, but wonderful, ideas to try. Here are a few of our favourites!
Valentine's Day Wood-Stove Breakfast.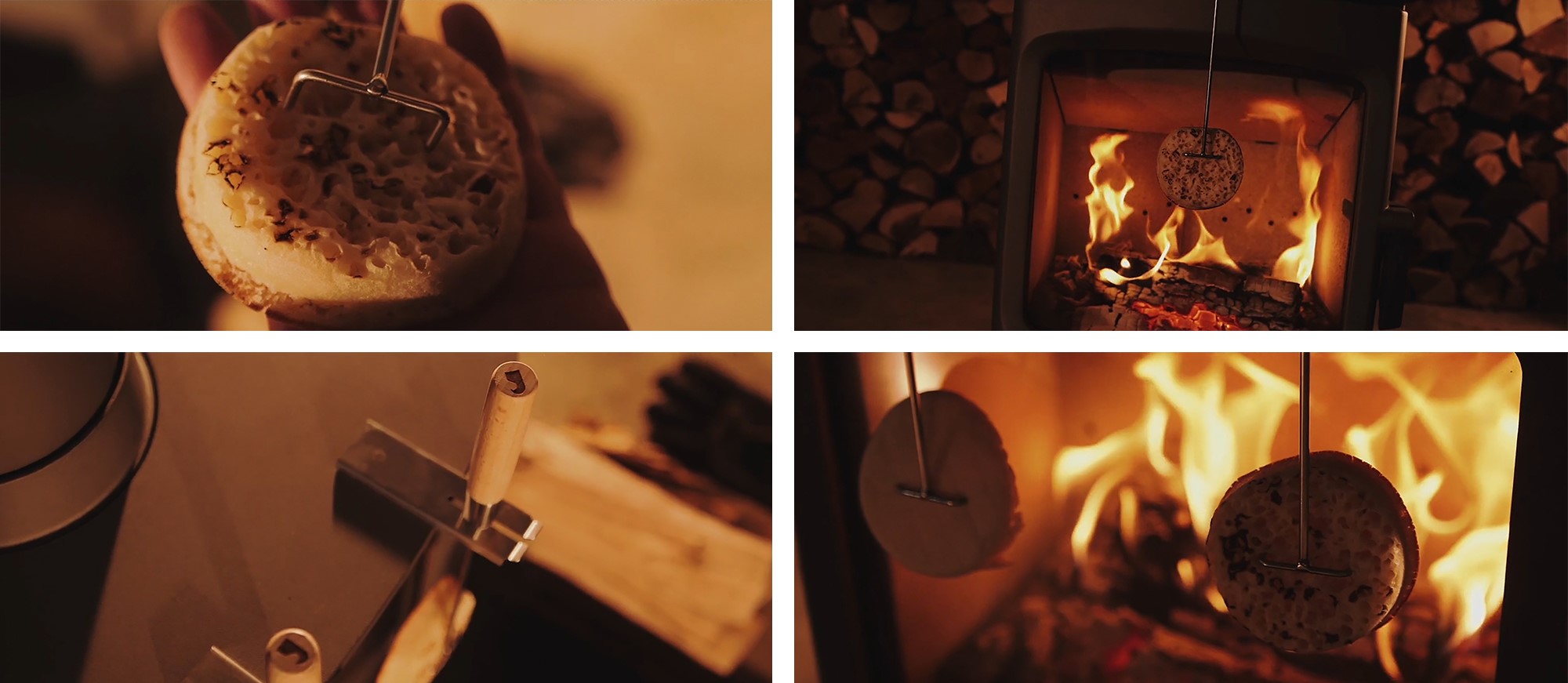 Breakfast in front of the fire feels luxurious and is invigorating – the perfect way to start a special day. Here are two great options:
1/ Warming croissants in some tin foil on top of your stove will fill the house with lovely fresh-baked aromas. Lather with real butter and your choice of conserve – it's simple but truly feels special.
2/ Toasting bread, muffins or crumpets with a Charnwood Toasting Fork is such a treat – for the eyes, nose and mouth!
Designed for use on all our models, simply fix the magnetic holder to the stovetop and suspend the fork in front of the glass for perfect toasting. The fork and holder are British made from stainless steel with a turned beech handle – doubles as a great Valentine's Day gift! You can purchase yours here.
A Valentine's Day Starter on Your Wood-Burning Stove
A simple much-loved starter is the trusty baked camembert. This also works well with a vegan camembert substitute, several options now widely available.
• Simply unwrap the cheese and remove/throw away the plastic covering.
• Add some complementary ingredients (see below) and put the cheese back in its box.
• Wrap the box in some tin foil and warm slowly on top of your stove until the cheese is oozy and delicious.
• You can even warm some baguette in tinfoil to accompany the dish. Cheese, warm bread and a glass of red – what's not to love?!
We recommend rosemary and garlic as flavourings. Slice the garlic into thin disks, break off a sprig of rosemary and insert evenly throughout the cheese to taste. Alternatively, if you aren't feeling the garlic breath, here are some other flavour options you can combine and experiment with:
• Herbs: rosemary / thyme
• Veg: garlic / caramelised onion / chopped chilli
• Jams & chutneys: chilli jam / cranberry jelly / fig jam / spiced apple chutney /
• Sweetness: a drizzle of honey
Finally, a great tip is to enjoy your starter in front of the fire while your main course is happily cooking away in the oven – the time will fly so set a timer!
Valentine's Day Dessert on Your Log-Burner
As far as we're concerned it has to be chocolate and our simple hot chocolate pot recipe is a decadent way to end a special meal – plus it's fun!
• Place a heatproof bowl about 50 cm from your lit stove.
• Break up the chocolate and add to the bowl, which will then melt slowly from the ambient heat – stir to help things along.
• Adding a small pinch of salt brings out more of the chocolatey flavour – stir well.
• Once the chocolate has melted you can dip fruit, marshmallows, pretzels, churros etc for a treat that can't fail to please.
This one is flexible to fit around your plans. A great idea is going out to a restaurant for your meal and either skipping or sharing a dessert then coming home to enjoy the ultimate chocolate treat in front of the fire. There is nothing better than when finally feeling full, not having to go anywhere and just relaxing with the romantic light and warmth of your wood-burning stove.
________
We hope you have a wonderful time, but we urge you to be careful, particularly if you haven't cooked with your stove before (we have to say, do so at your own risk). The main thing is to not leave food unattended on/near your stove. However, we feel it's well worth giving these recipes a go, as any one of them will add something extra special to your Valentine's Day this year.