Similar to a wood burning stove in design and appearance, a multi-fuel stove enables you to  burn coal and mineral fuels in addition to wood, making it a versatile and functional heating solution for your home.
The main difference in the design of a multi-fuel stove is that it features a grate with a removable ash-pan enabling you to burn different fuels at their best efficiency.
How does a multi-fuel stove work?
Just like a wood burning stove a multi-fuel stove has a number of different components, including the firebox where the fuel is loaded and lit, a door that provides easy access for loading the fuel and lighting the fire, a glass window so that you can watch your fire burning, a flue to draw the emissions into the chimney and an air vent that provides an air supply, while controlling how quickly the fuel burns. Coal and mineral fuels burn most efficiently with under grate air whereas wood burns best on a bed of ash.
The Charnwood converting grate switches from a flat bed to an open grate with flick of a lever on the side. This can also be used as an effective riddling mechanism depositing ash and embers into the removable ashpan below. The riddling can be untaken with the doors closed ensuring mess is kept to a minimum. This grate is built into our Island, Cove, Skye, Arc, SLX and Country boiler ranges.
Charnwood also offer a reciprocating grate: a retro-fit grate that converts our C-Series and Country models (non-Blu) into multi-fuel appliances
Contemporary multi-fuel stoves are extremely energy efficient. With this in mind, it's no surprise that this functional and aesthetically pleasing heating solution has increased in popularity in recent years.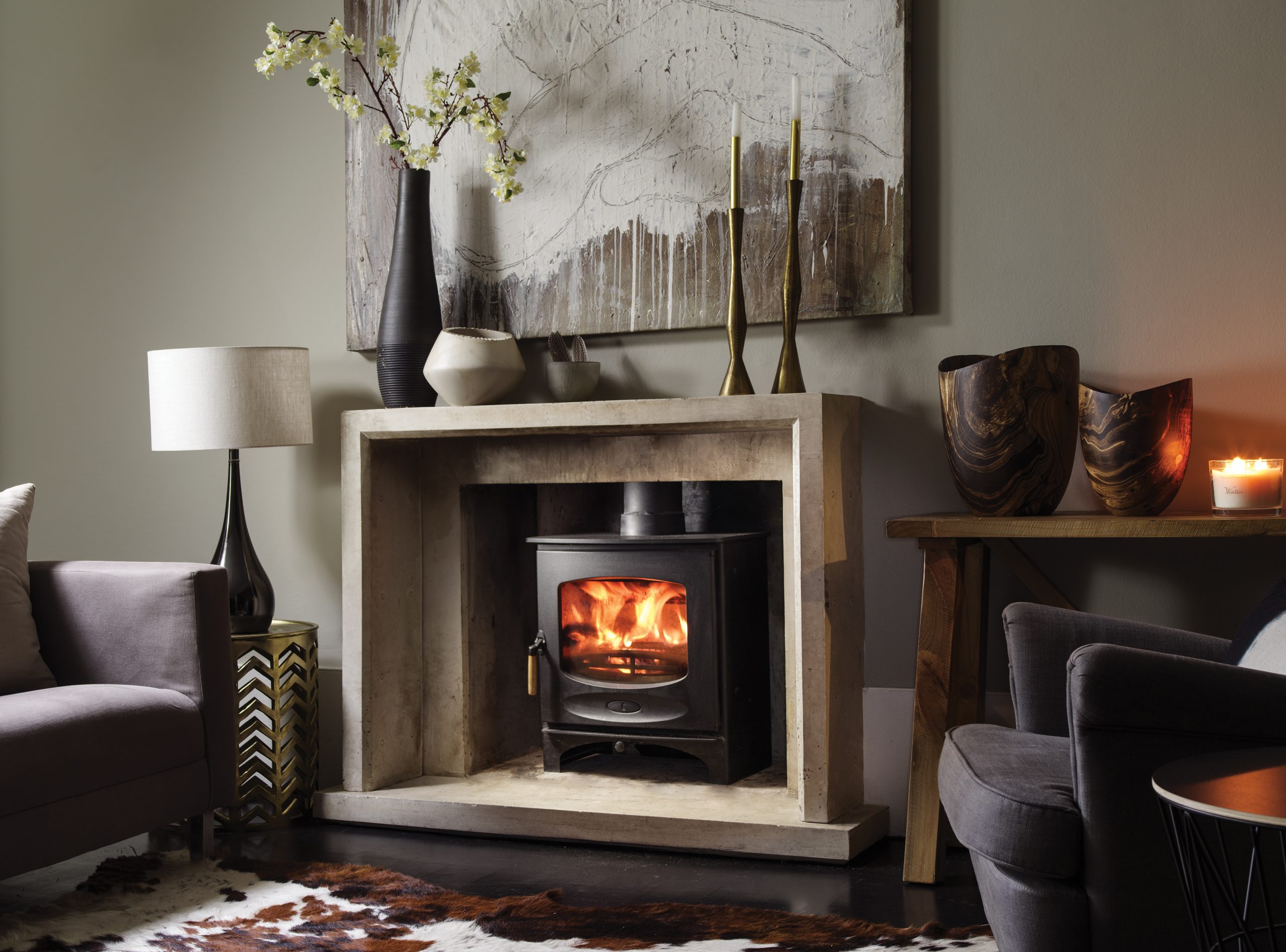 How to light a multi-fuel stove
It's easy to light a multi-fuel stove and, as long as you adopt the right technique, it is also extremely safe. We recommend the top down method – simply follow these steps:
Set the grate to the correct burning position. Open grate for mineral fuels or a flat bed for wood.
Place your chosen fuel on the stove bed.
On top of this build a stack of 6-8 kindling sticks
Then place a natural fire lighter inside
Fully open the air control for maximum air intake and a quick and easy ignition
Light the fire lighter and close the door but leave it slightly a jar
This helps to heat the chimney flue and burn hot and clean
Once the fire is burning well close the door and reduce the air intake
Re-fuel little and often
Every time a log or fuel is added open the air control again until the fire is burning well and then return the control to normal
By running your stove in this way you will achieve maximum efficiency with minimum emissions
Learn more on how to light a multi-fuel stove.
How long does a multi-fuel stove last?
If you maintain and burn your multi-fuel stove correctly you could enjoy it for many decades. Of course, you can expect to have to replace certain consumable parts during this time such as door seals, glass and fire bricks but at Charnwood we hold good stock of all components past and present that can be ordered from our online shop.
If you're considering buying a multi-fuel stove, please get in touch.
Why Choose Us?
At Charnwood Stoves, we're not just about providing stoves; we're dedicated to delivering exceptional heating solutions tailored to your needs. With decades of experience, we've perfected the art of crafting high-quality, reliable multi-fuel stoves that stand the test of time. Our commitment to sustainability drives us to create products that are not only efficient but also environmentally conscious.
What sets us apart is our unwavering focus on innovation. Our team stay at the forefront of stove technology, ensuring our products are equipped with the latest advancements for optimal performance. From design to production, every Charnwood stove is a testament to our passion for warmth, efficiency, and style.
Get in touch with us today.