On May 1st new government regulations came into force that restricts the types of fuel you can burn at home. We welcome DEFRA's announcement, that going forward, only fuels that reduce air pollution can be burned in stoves and open fires in the domestic setting. That means coal and wet wood are no longer allowed to be used. Charnwood fully support this change and have long been producing exceptionally high-performance stoves already designed to run on approved wood-burning stove fuel.
The Best Wood-Burning Stove Fuel Options
Seasoned wood
This is wood that has been stored and allowed to dry until the moisture content has reduced to 20% or less. Freshly cut or 'green wood' holds around 60% water which causes far more smoke to be produced. It is for this reason we have long stressed the importance of using seasoned wood because it produces a significantly cleaner burn – reducing emissions by up to 50%. Additionally, improved efficiency equals cheaper running costs, while a cleaner fuel means your stove and chimney will require less maintenance. It's win-win.
How to season wood in 4 Steps
1/ Split wood into logs in a size to suit your stove no larger than 15cm (6") in diameter.
2/ Stack the wood in a place that gets plenty of sun and allows the wind and air to circulate. To avoid injury from falling logs, never stack above head height.
3/ Cover the stack to protect it from rain and snow. Make sure to cover the top and if you cover the sides as well, make sure the air can get in and that moisture is not getting trapped.
4/ Store the wood for 18-24 months, until the moisture content is below 20%. Test this with a moisture metre.
Different species of wood have varying qualities that effect their wood burning capability. We have compiled a useful chart with more information.
Kiln dried wood
Another fuel that is DEFRA approved is kiln dried wood that is cut, split, and then dried in large ovens. This speeds up the drying process and means that there is always readily available fuel for your stove if your supply is short. Look out for the Woodsure Ready to Burn label which guarantees a moisture content of 20% or less.
Ecodesign Ready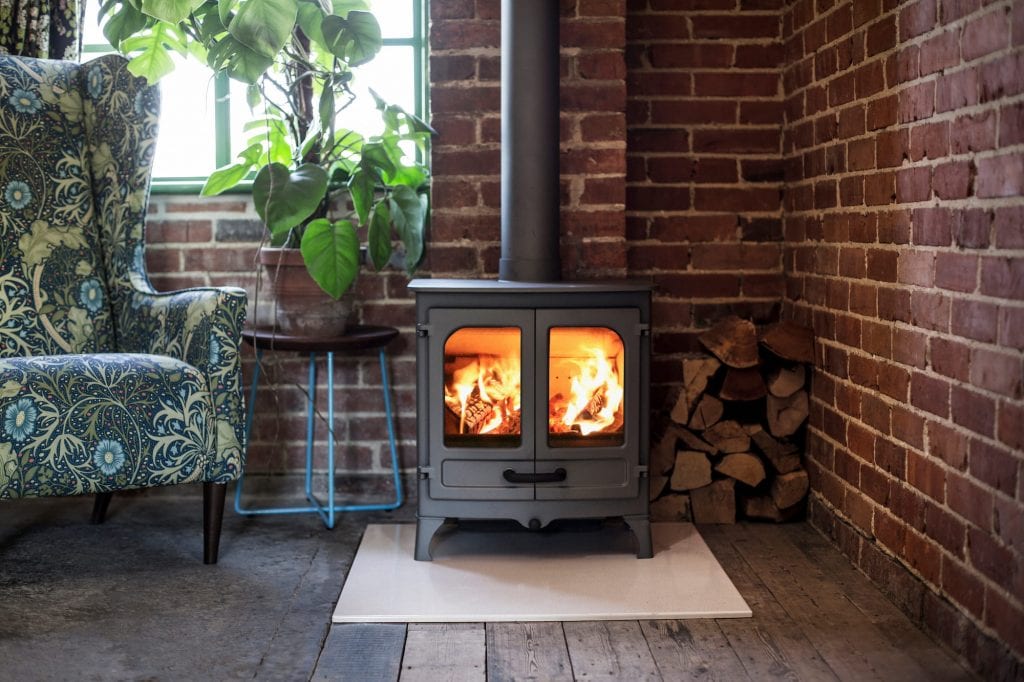 While choosing the right wood to burn is important, having an efficient stove is also key. Most of the stoves we sell are Ecodesign Ready and our Island Stove is one of the very cleanest on the market.
Charnwood are proud to have stoves certified in the inaugural ClearSkies listing, an independent emissions and energy performance certification mark for stoves. Many Charnwood products carry a level 5 certification (the highest available rating) which guarantees performance levels exceed the minimum Ecodesign criteria by a sizable 30%. This is only awarded to stoves that significantly reduce particle emissions while ensuring high efficiencies and a superior flame picture.
________________
We hope you embrace these new regulations and continue to enjoy the wonderful wood-burning experience with the knowledge that you are helping reduce pollution levels. Additionally, due to the carbon-neutral benefits of wood-burning, you are helping to significantly reduce CO2 levels and contributing to the fight against global warming.
Find out more about Ecodesign ready stoves here.