A primary consideration when getting a wood-burning stove will be making sure it is installed and situated safely. If you have limited room, a heat shield can play an important role in protecting your surrounding space. Furthermore, a wood stove heat shield offers a great opportunity to elevate the visual appeal of your fireplace to even greater heights.
The importance of a wood stove heat shield
Without adequate clearance from your stove, a combustible wall or object can overheat, dry out and present a fire hazard. The Fire Protection Association recommends that in general the common radiant-type stove maintain 900mm of space from a combustible surface. When this is not possible a heat shield is your only option. Situated between your stove and the exposed surface, a heat shield can reduce the required distance for safety. For more information on the minimum standards for heat shields and their installation, HETAS provides a comprehensive guide.
Additionally, to learn about our 8 tips wood stove users should do during the holiday season, view here.
VLAZE Heat Shields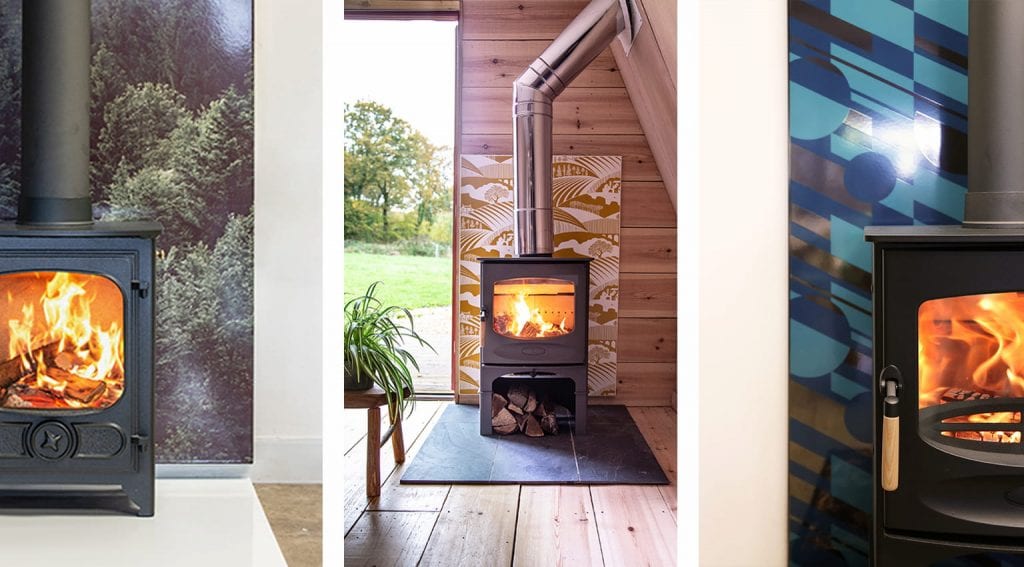 VLAZE, our sister company, fabricate heat shields from vitreous enamel, a superior material known for its many outstanding properties. It is heat-resistant up to 650°C, which allows you to reduce the distance between your stove and another surface to 95mm. For Charnwood stoves that reduces even further, to just 75mm – a vast improvement on HETAS regulations. This allows you to maximise space, providing greater flexibility when configuring your room layout. VLAZE's heat shields are easy to install and available in 3 sizes and 30 luxurious glazes – ample options to match your fireplace dimensions and your style.
Design
The images above show the potential of heat shields to add a splash of colour, texture, and designer flair to your fireplace surround. VLAZE have developed a wide range of styles drawing on both historical and contemporary references.
Heat shields are available in a wide range of flat colours, subtle textures or with screen-printed graphics. Once fired in the furnace, the surface is colour-fast, meaning the colours and artwork will never fade. Working alongside several designers, they have created many beautiful options catering for both modern and classic tastes. From statement patterns to minimalist hues, there are plenty of options available to accent or blend with your existing colour scheme.
To also find out about how to get heat from a wood-burning stove to other rooms, view here.
_____________________
A wood-burning stove, whether alight or not, is something that draws the eyes of whoever is in the room. With such a beautiful piece of craftsmanship providing the focal point of your home, it makes sense to give equal consideration to the other elements that will complement it.
For more information on VLAZE Heat Shields click here. To keep up to date with the latest news follow us @charwoodstoves.