The four weeks of Advent are traditionally used to prepare and remember the real meaning of Christmas. This period of reflection is a chance to focus on what is truly important in one's life, which is typically the coming together of family and friends in a spirit of love and celebration.
Much like opening the next window on the Advent calendar, lighting a fire is a ritual that can also provide a daily treat. Feeling the unique heat from a wood-burning stove is the perfect way to mark another cold winters day. The warmth and cosiness created in the home will help carry you and your family all the way through to spring.
Add the wood-burning process to your advent/winter traditions
Whether you're a new stove owner or just need a recap, here is the best method for lighting your wood-burning stove.
Here is the top-down method:
1) Leave some ash – the most efficient way to light a wood burning stove is to leave a little bit of ash from previous fires. However, you should still ensure the majority of the ash is cleaned out to avoid blocking air circulation.
2) Place 2-3 smaller logs on the stove bed
3) On top of this build a stack of 6-8 softwood kindling sticks
4) Then place a natural fire lighter inside
5) Fully open the air control as this will maximise the supply of oxygen in the wood burner needed to get the fire going.
6) Light the fire lighter and close the door but leave it slightly a jar
7) This helps to heat the chimney flue and burn hot and clean
8) Once the fire is burning well close the door and reduce the air intake
9) Re-fuel little and often
10) Every time a log is added open the air control again until the fire is burning well and then return the control to normal
---
A highly recommended accompanying read: Elf & Safety – 8 Tips For Wood-Stove Users Over The Holiday Season
---
Here's what our customers have to say
These Charnwood customer quotes give great insight into owning a stove and why they are such an important part of their lifestyle – particularly in winter!
"I find the process of building and lighting the fire therapeutic and sitting watching the flames is very relaxing."
"Something the whole family enjoy doing together and it makes us all feel incredibly relaxed and happy."
"It's a ritual on Christmas morning to rekindle the stove, and to unwrap the presents without a fire is unthinkable. There's something magical about children in their pyjamas sitting on the rug in the cosy space in front of a blazing stove."
"My young nephew visited at Christmas & we built the fire together. It was the first time he had ever lit a real fire. We celebrated with toasting marshmallows! It wasn't just building a fire – it was building a memory."
"After a day of sledging and building snowmen and having snowball fights with the family it was very relaxing and comforting for us all to warm up in front of the fire."
"My grandchildren ask for the fire to be on when they are having a hot chocolate on a frosty day."
"The stove is the catalyst for family bonding, which helps with relaxation & mood improvement. It helps to unwind after a days exertions at work."
"Christmas spent with all the family and grandchildren gathered around our stove brings happy memories all year round."
"My young nephew visited at Christmas & we built the fire together. It was the first time he had ever lit a real fire. We celebrated with toasting marshmallows! It wasn't just building a fire – it was building a memory."
(Source: Charnwood Well-being Survey)
If you've been dreading the months ahead, adding a new tradition of regular wood-burning could change your perspective on winter. The 'top down' process outlined above quickly becomes second nature and will enable you to, almost magically, transition from anything the day has thrown at you towards a positive state of being. The atmosphere created allows you to let go of the unimportant stuff and to come together as a family and focus on what Christmas is really all about.
---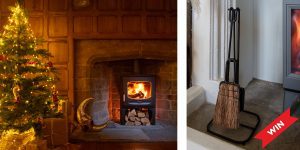 Finally, to celebrate the festive season we are inviting you to share your best #CharnwoodFestivePhoto! With a chance to win a beautifully handcrafted mini companion set worth £150! It's easy and free to enter. To qualify send photo entries to Photos@charnwood.com or just use #CharnwoodFestivePhoto with your post on Instagram.
Be as creative as you want, all we ask is that your Charnwood stove features in the photo. Whether it's a photo putting up the decorations from this year or the family gathered unwrapping presents from years ago – old or new we'd love to see them!
(Please note that submitting photos constitutes permission for us to use them across our various channels)