At Charnwood, a key part of our mission is to maximise wood-burning efficiency. Our revolutionary Blu technology means our stoves achieve ClearSkies ratings of 5/5 stars, while easily outperforming Ecodesign regulation requirements. We believe this is vital work when considering all the myriad benefits wood burning offers the individual and society. Carbon neutrality, significant well-being benefits, heat security and perhaps most importantly right now, low-cost fuel.
If you've already upgraded to an Ecodesign stove but are still looking for ways to improve efficiency, then please read on. In this post, we will discuss 7 great ways to make your stove work even harder for you and the environment!
1. Use a stove pipe thermometer
A Stove or Flu pipe thermometer is an essential piece of equipment that allows you to accurately monitor your stove's temperature. This helps burn wood efficiently, protecting your stove and chimney, while reducing emissions and maximising heat output.
"Makes it so much easier to see if my fire is working at optimum temperature and if I need to adjust the amount of wood/air flow." Charnwood customer from the 2022 stove accessory survey
Additionally, we recommend keeping your stove glass clean so you can monitor your fire and gauge its intensity. As you become more experienced you will be able to better predict the necessary interventions for gaining maximum efficiency.
2. Burn only dry, seasoned wood for better combustion
It's important to burn only dry, seasoned wood with a moisture content of 20% or below. Wet wood (anything above 20%) doesn't burn as well, leading to low efficiency and more smoke and pollutants.
Seasoned wood is wood that has been cut and usually allowed to dry for at least 6-12 months. You can roughly estimate if wood is seasoned by its lighter weight when compared to wet wood and telltale cracks in the end grain. However, to be sure, we strongly recommend using a moisture meter to accurately check the moisture content.
Better still, you can purchase kiln-dried wood from an approved firewood seller. Click here to search in your area.
3. Use a heat shield to direct more heat into the room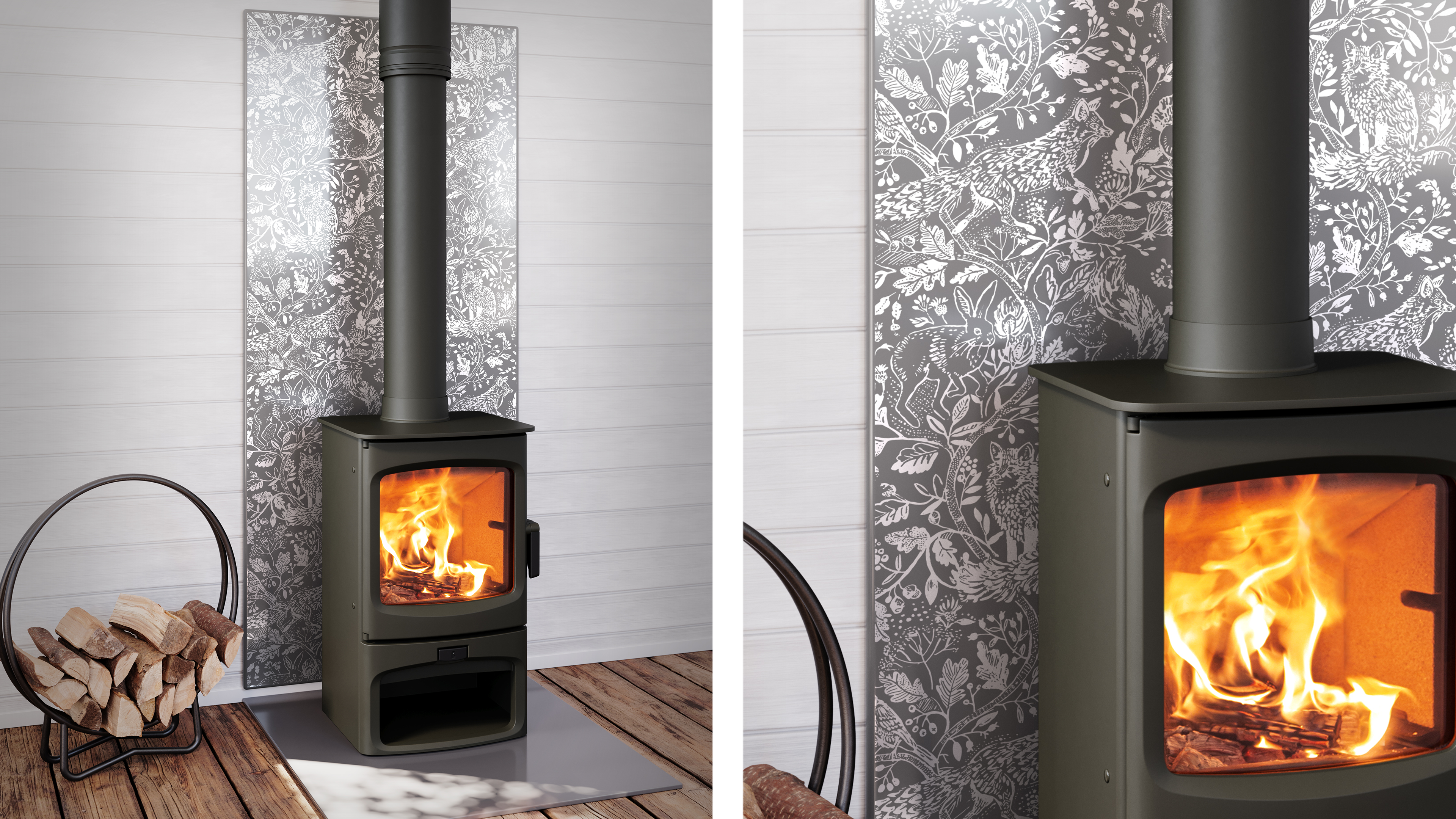 You can reduce your stove's clearances to combustibles and direct more heat back into the room with a Vlaze heatshield. Vlaze heat shields and hearth plates protect walls and floors from high temperatures and help reflect heat back into your room – they look great too!
4. Harness your stove's heat for cooking and boiling the kettle
If you have a wood-burning stove, you can harness your stove's heat for cooking with cast iron pots and pans. This is a fantastic way to save energy while heating your home! For everything you need to know about cooking with your stove click here.
5. Check the seals on your stove
It's important to make sure that the seals on your stove are tight. If the seals become too loose, this will reduce the efficiency of your stove and could allow smoke into your home. To check the seals, simply look at the gasket (rope seal) around the door of your stove. If it's not snug against the door, then it needs replacing. You should also check the seal around the chimney to prevent any escape. Taking just a few minutes to check the seals on your wood-burning stove, will help you keep your home safe and warm all winter long.
If you're still not sure how to check the seals, consult your stove owner's manual or contact a qualified technician.
6. Don't overfill the stove – allow for air circulation
It's important not to overfill the firebox of your wood-burning stove. This allows proper air circulation which is key to ensuring an even and efficient burn. A good rule of thumb is to fill the firebox no more than halfway so the wood gets enough oxygen to burn properly. If not wood will smoulder which can cause creosote buildup, a flammable substance that can cause chimney fires.
7. Regularly clean out ash and soot from inside the stove
It's important to regularly clean out the ash and soot that builds up inside. This helps keep the stove looking clean and improves efficiency as ash and soot can block the airflow inside the stove, making it difficult for the fire to breathe.
How often you clean will depend on how often the stove is used, but generally, it is best to do a thorough cleaning once every couple of weeks.
We highly recommend using an ash carrier to make the process much easier and mess-free!
_____________
Using a wood-burning stove is a great way to heat your home, cook meals, and save money on energy costs. However, it is important to take proper maintenance steps to ensure optimal performance. With these tips, you can enjoy the warmth of your fire this winter knowing you are being as efficient as possible!