This blog is a review and closer look at the results of the Charnwood Wellbeing Survey 2021. A survey of over 1200 wood-burning stove users and the impact of stoves on their wellbeing. The vast majority of stoves owned by participants utilise Charnwood's modern clean-burn technology and are EcoDesign ready.
___________________________
In recent years we have seen a move towards a greater understanding in society of mental health and the need for self-care. The lockdowns only brought this more into focus and it was no coincidence that stove sales rose steeply during this time. It was clear from our conversations with customers that there was a strong relationship between owning a stove and a happier home.
We recently conducted a survey of stove users to better understand the significant and unique benefits that wood-burning stoves provide their owners and family's wellbeing. The response was phenomenal with 1227 users (we thank you all) providing deep insight into the wider benefits of owning and using a stove.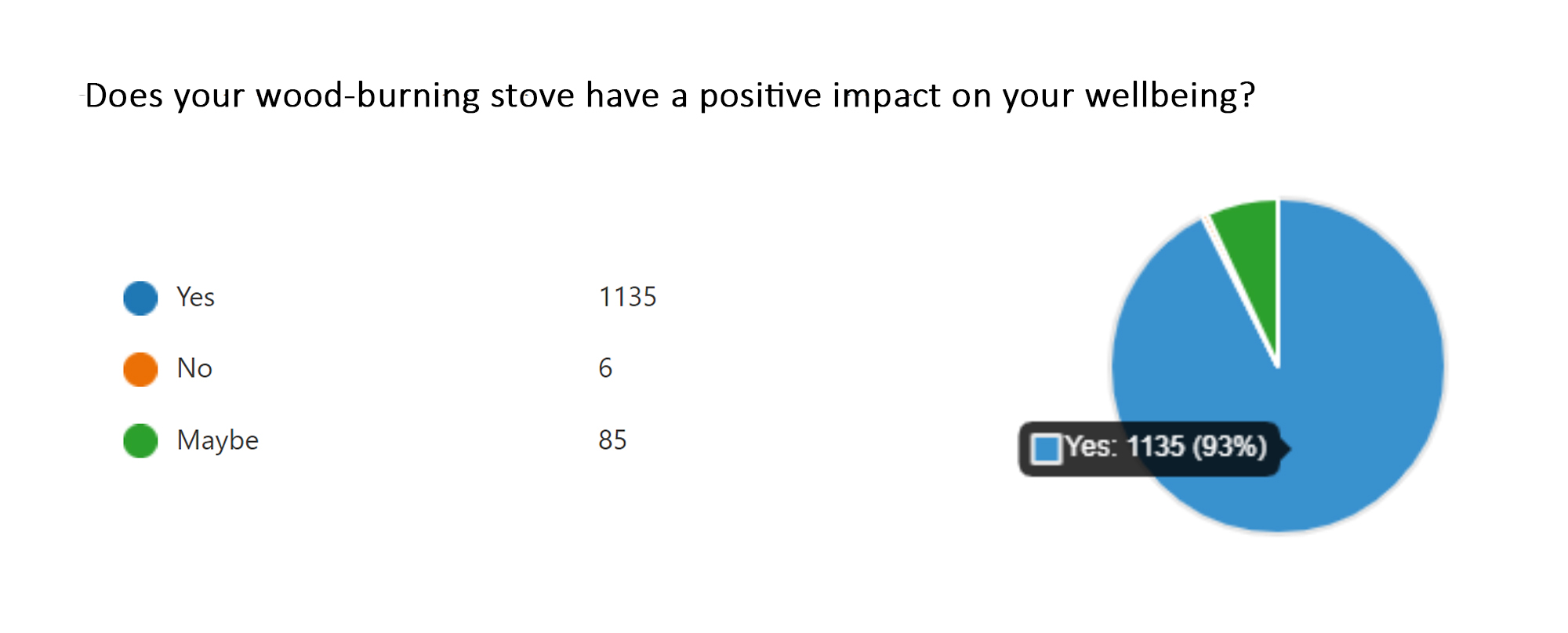 A whopping 93% replied, definitively, that their stove has a positive impact on their wellbeing, while the bar graph below shows the range of ways these benefits manifest.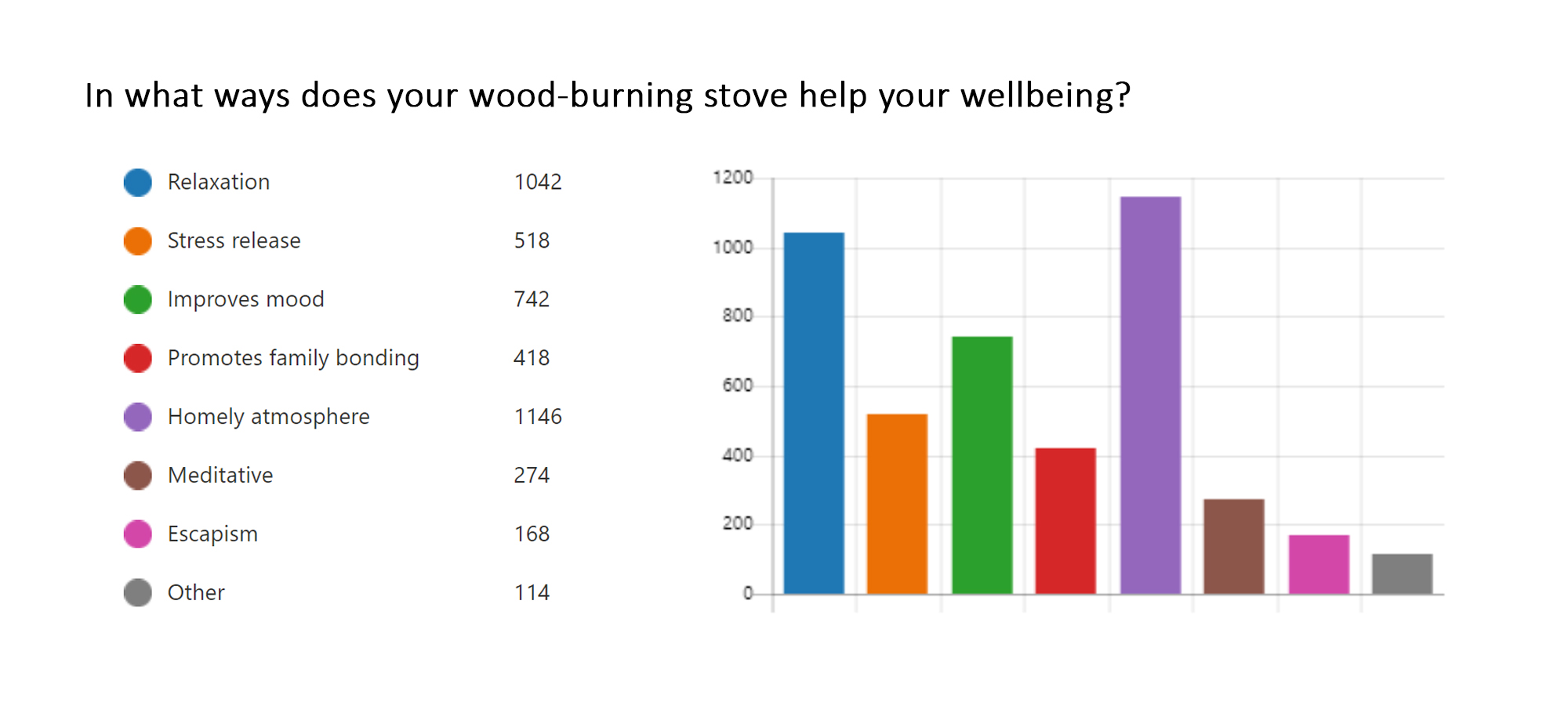 Participants were then asked to elaborate on their choices, and we were overwhelmed with the response. You can view the Charnwood Wellbeing Survey Results here.
Here are some of the best responses that provide some wonderfully deep insight into life with a stove.
The benefits of a wood-burning stove to wellbeing
"The wrap round warmth the fire provides improves the feeling of well-being that no other heating system seems to provide."
"The world seems much better with a stove! It has huge mental health benefit, particularly during pandemic "
"I live alone and work a very stressful and emotionally draining job. Coming home to my stove provides so much comfort, even in the absence of having someone to come home to. Literally couldn't live without it."
"I find the process of building and lighting the fire therapeutic and sitting watching the flames is very relaxing."
"It helps me to switch off after work and also to consider things more clearly and calmly. It seems to warm my soul as well as my feet!"
Increases bonding and improves relationships
"My grandchildren ask for the fire to be on when they are having a hot chocolate on a frosty day."
"Winter evenings with friends. Whenever we have visitors during the winter, we always make sure the stove is running as this usually ensures nobody will request the television be turned on, leading to an altogether much nicer atmosphere with people actually chatting and engaging much more, rather than staring at the screen."
"After a day of sledging and building snowmen and having snowball fights with the family it was very relaxing and comforting for us all to warm up in front of the fire."
"Chopping wood is a great way to relieve stress! Everyone congregates around the fire and the children like to help with the kindling etc. It just creates a special atmosphere."
"The stove is the catalyst for family bonding, which helps with relaxation & mood improvement. It helps to unwind after a days exertions at work."
"You can just gaze into the fire and be taken away from the stresses of work. It gives opportunity for the family to come together and talk. Talking just seems to come easier when siting around the stove."
Digital detox – an antidote to the digital age
"Helps to switch off from the technology that takes over our everyday lives. You feel a sense of achievement when the first sparks ignite."
"It's extremely relaxing to sit by the fire and watch the flames dance away. So much so in fact, that we opted to cancel our Netflix subscription and we simply don't watch it any longer. We'd much rather sit and watch the fire instead!"
"Sitting round the fire has become a special tradition. We've removed our technology from the living room and now have the fire and bookcase"
"We watch the flames not the TV (even the dog likes to sit and stare)"
"I sit on the sofa watching the flames. It's better than watching tv"
"Mesmerising flame watching takes us away from our worries and concerns. The room has a focus that isn't a screen and gives warmth with it."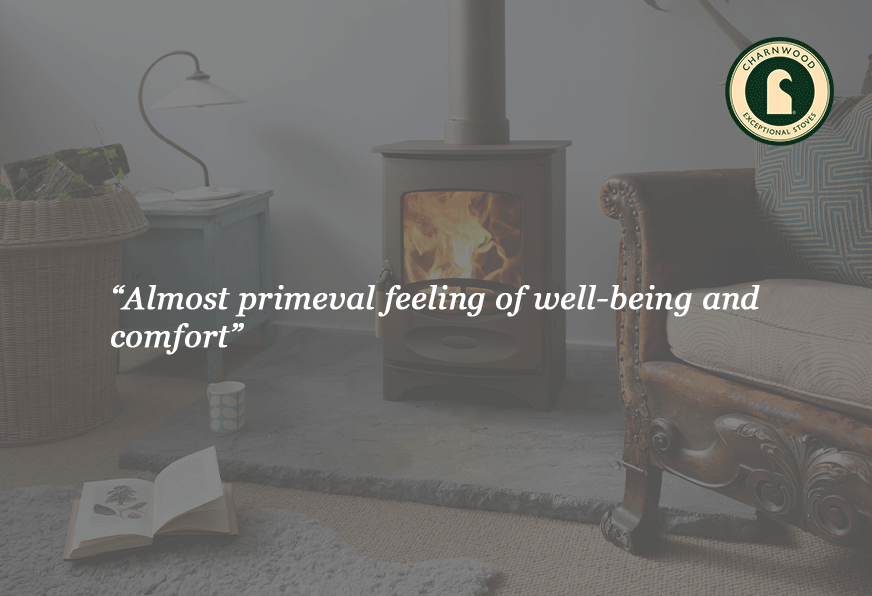 Stoves provide a real sense of security
"We love our log burner. It makes us feel warm, safe and secure. It helps heat the whole house, which has proved an asset in power cuts. Nothing beats sitting in the living room with the warmth of the fire in the depths of winter."
"Lighting the stove after a walk by the sea during winter is a joyful experience. Has helped to alleviate the worry of power failures as we live in an area prone to electricity outage during bad weather. Just knowing that we have our lovely stove for independent heat and low light is fab."
"Back up for central heating given no of power outages,"
"As an electric only house, we wanted a plan b during a power cut to heat the home"
"more efficient than previous coal fire and, in extremis, if gas supply fails or is too expensive, will provide warmth."
"Having a wood burner means I am less vulnerable in power cuts. I can still have heating, boil a kettle, cook food if I need to."
They cultivate a deeper connection to nature
"Worked in forestry for 36 years, just a natural thing to do, can't beat a real fire."
"Chopping and stacking wood is very calming and lets my mind focus on that one task. Building, lighting and getting the fire to the perfect temperature does the same and gives a real sense of achievement. It all makes me feel closer to nature."
"For me, sitting around a real fire has a deep connection to something ancient."
"There's something deeply Primeval about lighting a fire and benefiting from its heat. Every time you light it there is a deep sense of satisfaction"
"Splitting logs gets me outside and keeps me active, which is good for my body and mind. There's also a great sense of satisfaction in getting the wood pile ready for winter, and I've also learned a lot about different types of wood and how to manage trees sustainably."
"Watching the stove in full display is almost hypnotic and has great relaxing properties. It also has a back to nature feel and without any electrical devices in the room is perfect for de stressing."
Making special occasions even more special
"Christmas Day spent with all the family and grandchildren gathered around our stove brings happy memories all year round."
"Christmas especially. The stove just provides a much-needed atmosphere on a cold winters night. You feel relaxed, cosy and there is something about it that just welcomes you into the living room. I couldn't live without it."
"It's a ritual on Christmas morning to rekindle the stove, and to unwrap the presents without a fire is unthinkable. There's something magical about children in their pyjamas sitting on the rug in the cosy space in front of a blazing stove."
"My young nephew visited at Christmas & we built the fire together. It was the first time he had ever lit a real fire. We celebrated with toasting marshmallows! It wasn't just building a fire – it was building a memory."
Conclusion
This survey is the first of its kind (that we know of at least) and brings real weight to the argument in favour of wood-burning stoves beyond their already strong heating and environmental credentials. When having the debate on the viability of various home heating solutions, we should recognise the powerful effects that wood-burning stoves have on wellbeing – effects that no other heat source can replicate.
If mental health and wellbeing are, as we believe, important considerations that are rightfully getting more attention, then it is vital that this is properly considered when arguing for and against all types of energy solutions. Let's be clear, the experiences discussed above are nothing short of what makes life worth living – we shouldn't downplay or underestimate the important role wood-burning stoves play in people's lives and the positive knock-on effect to society.
Read More: