This blog is a review and closer look at the results of the Charnwood Stove Accessory Survey 2022. A survey of over 1000 wood-burning stove users with the aim of better understanding stove accessory preferences and usage.
We were delighted to receive such an incredible response from our engaged wood-stove community. From discovering the most popular stove accessory to users' other must-haves and how easy people find them to use – many interesting and useful insights were gained!
Read on to learn about the Charnwood Stove Accessory Survey and the other top wood-burning stove accessories!
The results
A woodstove is a wonderful addition to the home. Those of you who are new owners will be starting to notice how much more you are enjoying the colder evenings than before. What you will also notice is the ritual of building and maintaining a fire is much easier with the right tools.
The answers to the following questions will provide some ideas about which stove accessories you should consider next!
What is the most popular wood-burning stove accessory?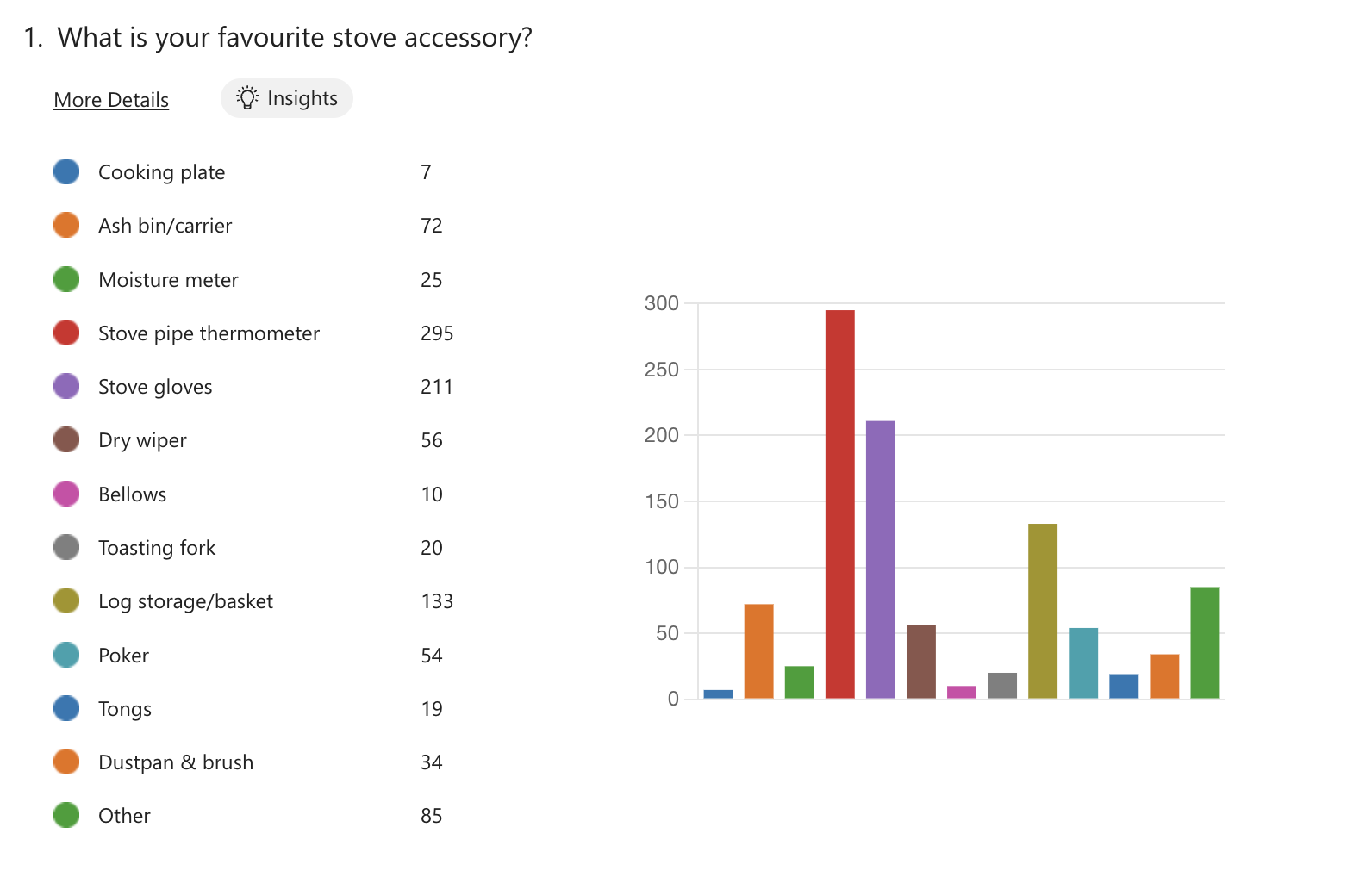 The results in the graph above show that the trusty Stove Pipe Thermometer is the most popular wood-burning stove accessory with 29% of the vote. 99% of respondents also found it easy to use.
Stove Pipe Thermometer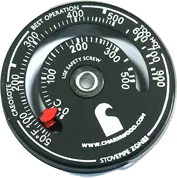 It's perhaps no surprise that the trusty Stove (Flue) Pipe Thermometer is the favourite accessory of stove users. It is a crucial tool for conscientious wood stove users who prioritise safety and efficiency.
The ideal wood burning temperature range is between 140 and 240 degrees Celsius (284 to 464 degrees Fahrenheit) which avoids damage to the stove and a potential fire hazard from creosote buildup.
How to adjust the fire temperature?
To reach a sufficient temperature, ensure a good draft, use seasoned wood and build the fire correctly ensuring your fire burns hot enough. To reduce the temperature of your fire when in use, you can close the air vents.
Which of the following do you consider 'Must Have' stove accessories?
Here are some quotes from survey participants relating to the top 7 'Must-Have' stove accessories.
Log Storage/Basket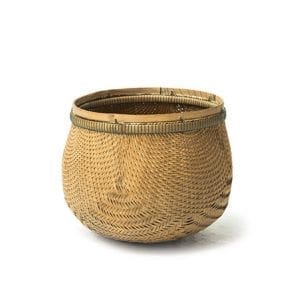 "Having a full wood basket during these crazy days makes me feel safe and secure, whatever happens I know I have heat and hot water and light."
"Keeps all the logs tidy and looks great beside the stove. Also useful for carrying in logs from the store outside!"
"Add to the aesthetics of the fireplace and is obviously useful for keeping wood supplies topped up."
"It reminds me of my grandparents' days as they always had one. It also keeps all my logs safe and tidy away from the children."
"A good quality basket enhances the look of the stove as well as being practical."
"My log basket really enhances both the look and the "feel" of my log burner."
"Keeps my living room very tidy. Really neat and elegant looking item. Sturdy and robust"
"Looks great and saves having to leave the room/ go outside for logs."
"It adds to the ambient feeling of the room when partially or fully loaded but I suppose more importantly it stops me from having to pop outside too frequently to get more logs, thus letting me enjoy the fire uninterrupted."
"It saves us fighting about who is going to get more logs when it's cold!"
For a full range of log holder storage click here!
Stove Pipe Thermometer
"Ensures I always know the temperature my stove is at as to whether I need to add more fuel or calm it down."
"Makes it so much easier to see if my fire is working at optimum temperature and if I need to adjust amount of wood/air flow."
"Because it allows us to check whether we are burning at too hot a temperature or too cool. We use both hardwood and softwoods so it would be difficult to know without this vital tool."
"It means that I always burn my logs in the most economical and environmentally friendly way."
"I hadn't realised just how hot the stove gets at full output making this an essential piece of it when topping it up with firewood."
"It allows me to regulate my stove temperature to maximise the life of the stove and have efficient burning of my wood"
"Ensures the fire is hot enough to keep down the accumulation of creosote. Wouldn't be without it!"
"I constantly use it to check that the stove is burning in its optimum range for efficiency and to prevent damage and tarring."
"Invaluable, the little thermometer lets me know when the fire is at optimal temperature and I can then maintain that temperature throughout operation. Probably helps conserve wood too, a great bit of kit."
"Just gives you so much information in regards to heat output from different fuel types, different wood species, hard woods, softer woods. It really allows you to dial in the stove to get the best from it."
"This provides us with an idea of how well the stove is burning. For example, over the last two years we have been testing wood purchased from sellers and our own seasoned wood and the stove pipe thermometer gives us a real measure of the heat output (even though most of the time, we can tell the difference ourselves based on how nice the room feels). It also helps us regulate the flu for optimal burn. We learned a lot using the stove pipe thermometer about our stove and the wood we burn."
"It reassures me that I have the right burn, low emissions and great heat output."
"As an engineer I love indisputable visual indication of when things are operating correctly! Such a simple device and has definitely altered how we 'set' our stove."
You can get a Charnwood Stove Pipe Thermometer here!
Stove Gloves
"Without them it would be very difficult and dangerous to use the burner"
"Only burn your fingers once to realise they are useful!!!"
"Provides confidence in 100% protection when refueling the stove."
"Really effective and protects hands while loading logs"
"Just love them, total safety when loading the stove"
"Because it stops me blistering my hands."
"Offers safety when handling logs, opening & closing stove and promotes attention to avoiding burns."
"Makes me feel safe when stove has become very hot"
"They just make life so much easier handling logs and placing logs in the stove. No splinters or burns!"
Watch this space – Charnwood stove gloves are on the way!
Dustpan & Brush
"It makes emptying the stove so much easier and cleaner, the house is relatively dust free after clearing."
"It helps to keep the room relatively dust free"
"Keeping the hearth clean and tidy stops ash and debris, from the stove and wood pile underneath it, from spreading to the floor and messing up the room."
"Whenever the stove is used it is necessary to clean up small amounts of ash that fall out. The brush and pan are thus used very frequently."
"The dustpan & brush makes removing the Ash so much easier, our charnwood is used every day from October to February so we collect a lot of Ash which we use as compost. We have other accessories but they don't see as much use as the pan & brush."
Poker
"An absolute must have accessory to reposition burning logs and coal."
"Can re-arrange wood in the stove when going, safely."
"Brilliant for getting fire going"
"I like poking the fire! Breaking it down to a bed of hot burning wood so I can get more fuel in!"
"I can poke the logs to get maximum burn."
"Great to look at, well made and does the job perfectly."
"You can move the logs about to create space and so regulate heat a bit better."
"It's so satisfying prodding at red hot embers on a freezing cold evening and feeling the heat on your face".
"Great quality and have stood the test of time with good amount of use. Quality product."
"We have a wrought-iron poker made by a friend from years ago..handle in the shape of a hare's head..love it, wasn't cheap but a real beauty."
"Simple basic tool allowing rearranging of fuel to ensure even burning and helping keep glass door clean."
"Get the fire going. Can push the logs back into the fire so they burn probably."
Our sister company Bodj offer a beautifully hand-crafted blow poker. Click here for more information!
Ash bin/carrier
"Easy to use. Metal. Compact. Stops dust flying around. Carry handle is useful."
"Great 4 carrying ashes out on a windy day."
"Ease of use in keeping ash contained and not flying all over the place."
"Allows dust free disposal of ash."
"I have two Charnwood stoves. One has the ash bin/carrier and the other doesn't. It's SO difficult to get the ash out of the stove that doesn't have the ash bin/carrier."
"It is a safe and clean way of dealing with the only downside to a log burner, the ash."
"Ease of emptying."
"Makes it easy to empty ashes no fear of dropping them all over the floor."
"Makes it more convenient to remove ash over several days without having to fill smaller bin bags thus reducing plastic waste."
"Easy to use with minimal dust released when moving around can hold at least 1 month' worth of ash."
"Simplifies the worst job – cleaning out the ashes and getting them to the bin without being covered in ash from head to foot in a gust of wind. Neat to store, fits the ashcan perfectly and contains the dust when you tip the ashes in."
Charnwood ash carriers are available here.
Tongs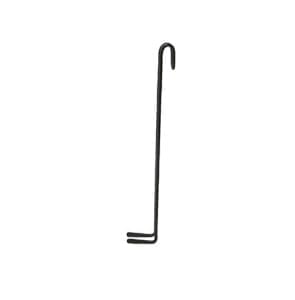 "Can't beat a good solid pair of tongs for keeping away from the heat and flames, whilst topping up the stove."
"I can position logs to maximum effectiveness."
"It's a really nice bit of blacksmithing, lovely rams head on the end."
"Don't get burnt and can place logs where you want them."
"Handy for falling logs."
"Fantastic for putting more wood in when the stove is really hot!"
"Looks rustic and very useful"
"Allows me to place logs where I want them in my stove, but it is also the most universal tool"

Hand forged tongs are available here.
Moisture Meter
Surprisingly only 23% of those surveyed own a moisture meter. We consider a moisture meter a must-have stove accessory to ensure wood is properly seasoned before burning and we urge you to get one!
It is very important to only burn wood with a moisture content of 20% or less. This will keep harmful emissions to a minimum and significantly improve efficiency, while protecting your stove and chimney – saving you money!
Look out for the Woodsure Ready to Burn label which guarantees a moisture content of 20% or less.
For a list of approved firewood sellers in your area click here.
Here are what some moisture meter owners had to say:
"I know I'm complying with byelaws and also prolonging the life of my Island 2 stove"
"Because I like to know that the logs I'm burning are dry and safe to use"
"Allows us to keep the stove clean by making sure we only burn the driest wood"
"This plus thermometer can't really be replicated using non specialist tools."
"It means I know when I can burn the wood that I've collected myself from the neighbourhood."
"Vital for the whole seasoning process."
"Especially Important given that the cost of kiln dried logs has doubled compared to this time last year!"
"I know I'm complying with byelaws and also prolonging the life of my Island 2 stove"
"Because it saves me burning wood which is too wet. Genuinely get a buzz when I 'detect' anything too moist on my meter!"
If you are seasoning your own wood, make sure you test it with a moisture meter before burning. You can get yours here.
____________________
As you can see, there are a whole host of useful stove accessories that will enhance your wood-burning stove experience. For more information on all the stove accessories available, click here.
Finally, thank you to everyone who took part in the survey!