We welcome the latest UK government figures for particulate matter emissions. It reveals that indoor wood burning is responsible for less than half the emissions previously speculated (17% rather than 38%). This is based on the latest data which now recognises errors in the previous data set. 
17% is still significant, however, this figure includes all wood burning from open fires and old closed faced stoves. This suggests there is significant room for improvement as we know that Ecodesign stoves are 90% more efficient than open fires and 80% more efficient than stoves 10 or more years old. The SIA has established that Ecodesign stoves are in fact currently contributing just 2.7% to emissions. 
A government study in 2016 reports 40% of domestic burning is from open fires, while we know that Ecodesign regulations only just came into force this year. Therefore, there is real potential for significantly reducing the PM output of domestic wood-burning by encouraging open fire users and those with an old stove to upgrade to an Ecodesign stove.  
Commenting on the latest data Andy Hill, chair of the Stove Industry Alliance, said: 
"We welcome the revisions to the government's statistics on PM2.5 from domestic combustion sources that have been announced. The SIA has long maintained that the volume of wood fuel used to calculate the previous figure had been significantly overestimated, and this has now been officially acknowledged." 
"There is huge potential to lower PM2.5 emissions from domestic combustion even further by encouraging homeowners to upgrade their open fires to an Ecodesign stove, such as a clearSkies certified appliance. These stoves produce up to 90% less particulate matter emissions than an open fire so the further reduction in emissions levels that could be achieved is significant. A professionally installed, regularly serviced modern Ecodesign stove used with correctly seasoned wood fuel* is a very low carbon, low emission, sustainable and cost-effective way to heat our homes." 
It is important to remember that a world without any PM emissions is not a realistic goal – certainly not with the current technology available and so it is right to pursue a strategy that seeks to minimise PM levels while maximizing the benefits of various heating solutions. With oil and gas prices rising and with the existing limitations of wind and solar power, there is absolutely a need for an efficient domestic combustion solution which Ecodesign stoves provide.
Read more on what to do about rising energy prices
Eco-design wood burning stove benefits:
1/ They can produce heat for long periods.
2/ Allowing them to work in conjunction with wind, solar and other energies helps make these great technologies more viable – They are not in competition with each other.
3/ An ideal emergency/low-frequency heat source.
4/ Wood is a carbon-neutral fuel as it gives off the same amount of carbon whether it is burnt or decays naturally. The carbon released from burning wood is balanced out by the carbon absorbed by the tree during its lifetime.
5/ Ability to source fuel locally and without fracking and deep-sea oil drilling.
6/ A good quality stove can last many decades and provide an affordable source of heat for low-income households.
7/ The right to repair. The majority of components used within a Charnwood stove are modular and can be replaced when or if they wear out further extending the life of your stove.
8/ Charnwood stoves and packaging are fully recyclable.
9/ Significant well-being benefits as a result of owning a wood-burning stove. Read about the Charnwood wellbeing survey and all the amazing benefits of owning a stove for your wellbeing.
The perfect open fire replacement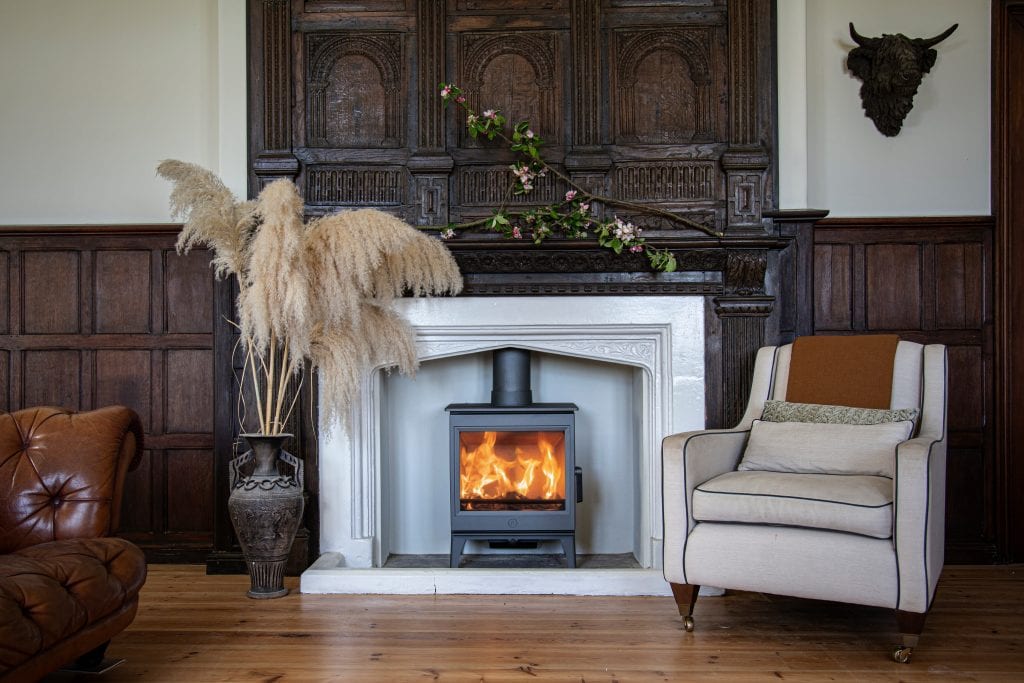 The Charnwood Cranmore is perfect to replace an open fire or old stove and suits an open fireplace beautifully. It is a classic new wood-burning stove that is traditional in style, however, benefits from the very latest in clean burn technology. The Cranmore draws inspiration from the Regency era with a single framed glass door and archetypal detailing. The stoves' pleasing proportions make it well suited to a traditional fireplace and with its large picture window and mesmerising flame pattern it is an ideal replacement for an open fire. Read more about the Cranmore here… 
Proper stove usage is key
The benefits of an Ecodesign stove can only be realised with proper usage and by selecting the right type of fuel. – This is wood that has been stored and allowed to dry until the moisture content has reduced to 20% or less. Freshly cut or 'green wood' holds up to 70% water which causes far more smoke to be produced. It is for this reason we have long stressed the importance of using seasoned wood because it produces a significantly cleaner burn – reducing emissions by up to 50%. Additionally, improved efficiency equals cheaper running costs, while a cleaner fuel means your stove and chimney will require less maintenance. It's a win-win. 
More information on sustainable firewood choices. 
_____________________ 
We believe that Ecodesign regulations will have a hugely positive impact and will improve emission targets further. Since regulations have only just come into force this year, most stoves surveyed were older inefficient stoves and open fires. Therefore, as more people make the switch to new efficient Ecodesign stoves, we will see emission output for domestic woodburning fall significantly – particularly if you help us spread the word! 
Sources:
https://www.gov.uk/government/statistics/emissions-of-air-pollutants/emissions-of-air-pollutants-in-the-uk-particulate-matter-pm10-and-pm25 
https://assets.publishing.service.gov.uk/government/uploads/system/uploads/attachment_data/file/517572/Summary_results_of_the_domestic_wood_use_survey_.pdf 
https://www.clearskiesmark.org/