As we head into the cooler months many of us are preparing to light the log burner or, if we don't already have one, considering installing one. Wood burning has been around since the dawn of civilisation and there is undoubtedly a primal connection with fire within us as humans. At Charnwood, we have 50 years of expertise in wood burning technology and the stoves we sell across the globe today are among the cleanest, greenest appliances available on the market.
However recently there have been a number of reports circulating within the media that suggest stoves may be polluting our environment and are bad for our health. What is the truth about wood-burning stoves and air quality? In this article, we delve into the real facts and why many of these reports are very misleading and damaging to an industry that is a part of the solution to clean, sustainable, low carbon energy.
Is particulate matter (PM 2.5) from wood-burning stoves damaging our health?
The term particulate matter, also known as fine particles or PM 2.5 refers to tiny particles or droplets in the air. They are about thirty times smaller than the width of a human hair.
The World Health Organisation's (WHO) safe level for PM 2.5 particulates in the air is a daily average of ≤ 10 µg/m3 (1). For reference, air outside in Central London averages 18-25 µg/m3.
A US study in 2019 of 137 homes published in the Journal of Exposure Science & Environmental Epidemiology, found that the average daily level of PM 2.5 particulates in homes (2):
– with a wood stove measured at 6-8 µg/m3
– no wood stove measured only a fraction less at 6-7 µg/m3
So, we're really talking about a minuscule difference that is well within the WHO safe level. Hard to believe? It really shouldn't be because a correctly functioning wood stove draws air, smoke and particulates out of a room and up the chimney.
In contrast, the UK media bases its negative assertions on a study of just 19 homes that took measurements using, as they admit, "low-cost air quality monitors" (3).
It is impossible to remove PM 2.5 completely from our lives and some measured thinking on this subject is required. When you consider that brakes from an electric car and even a burnt piece of toast (as well as a host of other everyday items) produce significant amounts of PM 2.5 particles, it helps put things in perspective!
However, we welcome regulation and continue to innovate to reach even greater levels of efficiency and emission reduction. We are proud that we are now creating stoves that are 90% more efficient than open fires and new innovations are forthcoming.
We welcome more studies being undertaken, but what is clear is that the most comprehensive data available to date indicate that the dangers presented from wood-burning stoves are exaggerated, to say the least.
Are wood-burning stoves environmentally friendly?
In most cases yes they are. But it is worth noting that not all wood-burning stoves are the same. At Charnwood, we only produce stoves that meet the criteria for EcoDesign 2022 which significantly reduces particle emissions while ensuring very high efficiencies.
The Stove Industry Alliance (SIA) have produced this short film to help dispel some of the myths around wood-burning stoves with the real facts.
It's worth considering that as wood burning stove sales have increased in record numbers during the recent lockdowns, with more opportunity for their use, measurements for 2.5 µg/m3 actually decreased. Coincidence? No, it's because modern wood-burning stoves are not the problem.
Much of the confusion has come from DEFRA lumping in wood-burning stoves with open fires and bonfires and then presenting a grouped figure for emissions – this totally distorts the data (4). An EcoDesign Ready stove produces 90% fewer emissions than an open fire and 80% less than older designed stoves. Despite this fact, modern wood-burning stoves continue to get tarnished in the press for the faults of open fires and the like and continue to get attributed to an unrepresentative figure. It is open fires that need to be scrutinised and those who have made the switch to an EcoDesign Ready wood-burning stove should be commended for doing so and more people should be encouraged!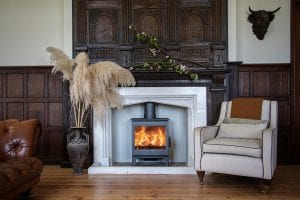 At Charnwood, we recently released the Cranmore, which is the perfect open fire replacement. Super-efficient, clean and with an EcoDesign score of 5 (the highest possible), its dimensions and aesthetic are perfectly suited to an open fireplace. If you have an open fire, we encourage you to make the switch!
Wood burning stoves are part of our home heating solution
At Charnwood we are big fans of wind and solar energy – indeed our factory roof on the Isle of Wight is covered with panels and many of us have installed solar on our roofs at home. They are a big part of the solution, but it's important to remember that even these much-lauded technologies have some downsides. Firstly, they don't offer a constant supply and then there are environmental costs, although relatively low, involved in their production. However, overall, the net benefit for the world is clear and demonstrable.
Fossil fuels on the other hand are non-renewable and as we all know, polluting. The main advantage is the ability to provide power 24/7 – but they're not a sustainable part of the world's future.
These are just a few examples, but they highlight that no energy source can be 100% perfect. It's about finding energy sources that are, on balance, positive for society and wood-burning stoves fall into this category as a very viable solution.
Wood burning stoves
Wood is a renewable energy source, sucking carbon out of the atmosphere as trees grow. Of course, there are best practices that need to be followed and selecting the right type of wood from the right sources is key.
Wood burning stoves have numerous benefits:
– They can produce heat for long periods.
– Allowing them to work in conjunction with wind, solar and other energies helps make these great technologies more viable – They are not in competition with each other.
– An ideal emergency/low-frequency heat source.
– Wood is a carbon-neutral fuel as it gives off the same amount of carbon whether it is burnt or decays naturally. The carbon released from burning wood is balanced out by the carbon absorbed by the tree during its lifetime.
– Ability to source fuel locally and without fracking and deep-sea oil drilling.
– A good quality stove can last many decades and provide an affordable source of heat for low-income households.
– The right to repair. The majority of components used within a Charnwood stove are modular and can be replaced when or if they wear out further extending the life of your stove.
– Charnwood stoves and packaging are fully recyclable.
Wood Burning Stoves: An antidote to the digital age
In addition, the mental health benefits absolutely shouldn't be overlooked. It's no coincidence sales of stoves rocketed during the hardships of the last couple of years. People recognised the need to make their homes as comfortable and stress-free as possible. Restorative spaces that help us face the trials and tribulations. This isn't trivial in the slightest. This is a benefit that no other energy source we've talked about can provide. You don't get a visceral connection to nature by flicking on a switch. Fire affords a primal connection that genuinely helps people unwind and reconnect.
We've spoken to many customers about their stove and the responses are strikingly similar. Their stove provides much more than just heat. It's clear from our conversations that burning wood provides enormous well-being and associated mental and physical health benefits. People report it helps them "switch off" and "after a day in front of a screen, chopping wood [and] preparing the fire really helps me to reconnect to the real world", "brings the family together", "helps me sleep better", "almost like a meditation". You simply don't get this from another heat source.
To the individual and family, this is clearly hugely beneficial. Now consider this extrapolated across a population and the effect multiples – it becomes powerful. Improving people's wellbeing and reducing stress allows people to take more actions/decisions from a healthier state of mind. This in turn can only contribute positively to society.
It is widely accepted that few things are as unhealthy as chronic stress and from our personal experience as well as our customers few things can relieve it as consistently well as the process of wood-burning.
– The pleasure of foraging (optional)
– Exercise/stress relief from chopping wood (optional)
– Feeling connected to a historical and natural process
– Lighting a fire – satisfaction of a job well done.
– Enjoying the long-lasting and penetrating warmth
– Deep relaxation with the crackle and flicker of fire
– A focal point for friends and family
So in conclusion an EcoDesign Ready wood burning stove is a clean and environmentally sound choice for heating your home. It is of course important that it is used correctly and the fuel burnt is properly seasoned but this is a source of energy that provides not only warmth but can be key to our wellbeing.
Golden rules. 3 steps to burning wood on your stove efficiently
1/ Good fuel – This is wood that has been stored and allowed to dry until the moisture content has reduced to 20% or less. Freshly cut or 'green wood' holds up to 70% water which causes far more smoke to be produced. It is for this reason we have long stressed the importance of using seasoned wood because it produces a significantly cleaner burn – reducing emissions by up to 50%. Additionally, improved efficiency equals cheaper running costs, while a cleaner fuel means your stove and chimney will require less maintenance. It's a win-win.
2/ Efficient stove – Charnwood is proud to have stoves certified in the inaugural clearSkies listing, an independent emissions and energy performance certification mark for stoves. Many Charnwood products carry a level 5 certification (the highest available rating) which guarantees performance levels and exceed the minimum EcoDesign criteria by a sizable 30%. This is only awarded to stoves that significantly reduce particle emissions while ensuring high efficiencies and a superior flame picture.
3/ Correct use – this is a variable that has until now been dependant on the experience and diligence of the end-user, providing mixed results. That is why Charnwood are developing new technology that will give the user the option of automating this process. This will mean the stove will burn at the most efficient rate possible, further improving its green credentials. Watch this space!
1/ https://en.wikipedia.org/wiki/Air_quality_guideline
2/ https://www.nature.com/articles/s41370-019-0151-4
3/ https://www.mdpi.com/2073-4433/11/12/1326/htm
4/ https://www.gov.uk/government/publications/summary-results-of-the-domestic-wood-use-survey
Other useful sources of information:
5/ https://stoveindustryalliance.com/
6/ https://www.readytoburn.org/