Whilst the notion that a colder winter follows a hot summer isn't necessarily supported by science, it's smart to hope for the best but prepare for the worst. With temperature records recently broken and weather impossible to predict, who is going to bet against it being a particularly chilly winter?!
With talk of gas and electricity prices rising significantly from October, it is understandable to feel somewhat alarmed. Rather than just feeling a sense of helplessness, we will discuss some tips for how stove owners can be proactive and soften the effects of the cost-of-living crisis. After all, the trusty wood-burner helped many homeowners through the oil crisis of the 1970s, and we'll show you why it can still be relied upon more than ever in 2022.
Read on to get some stove owner tips (for all budgets) to help prepare for the winter energy crisis.
Get winter ready now!
Whether you've owned a stove for several years or are still considering buying one, it makes sense to start your preparations now. During the summer months, demand for stoves and spare parts, as well as stove installers and chimney cleaning services, reduces slightly and can make the process easier and sometimes a little cheaper.
Wood-stove owner tips to prepare for winter:
Clean your chimney and service your stove
We recommend an annual service for your chimney and stove. This ensures optimum performance and safety, meaning you are burning wood efficiently/cost effectively and avoid potential (expensive) problems down the line. We recommend speaking with your local dealer or installer about organising an annual service.
For those who want to take on some of the maintenance themselves, here is an article to help you clean your stove!
Buy a great value & highly efficient stove


The Charnwood Country 4 Blu is fantastic value and a great long-term investment suitable for most homes. While the Country 4 is the smallest model in the Country collection, it still incorporates the ingenious features of the larger stoves and is exceptionally fuel efficient.
The Country 4 takes a decent sized log length of 332mm (13") and has a rated output of 5kW and can be installed in certain situations without the need for external air – this is ideal for most sizable family rooms.
Fix up your existing stove
If you can't afford a new stove, then the spares site could be just the solution to give your existing stove a new lease of life! We still recommend everyone upgrade to one of our new ultra-efficient stoves as soon as possible, but for those who are currently struggling financially, we hope the spares shop can help tide you over.
Heat Shields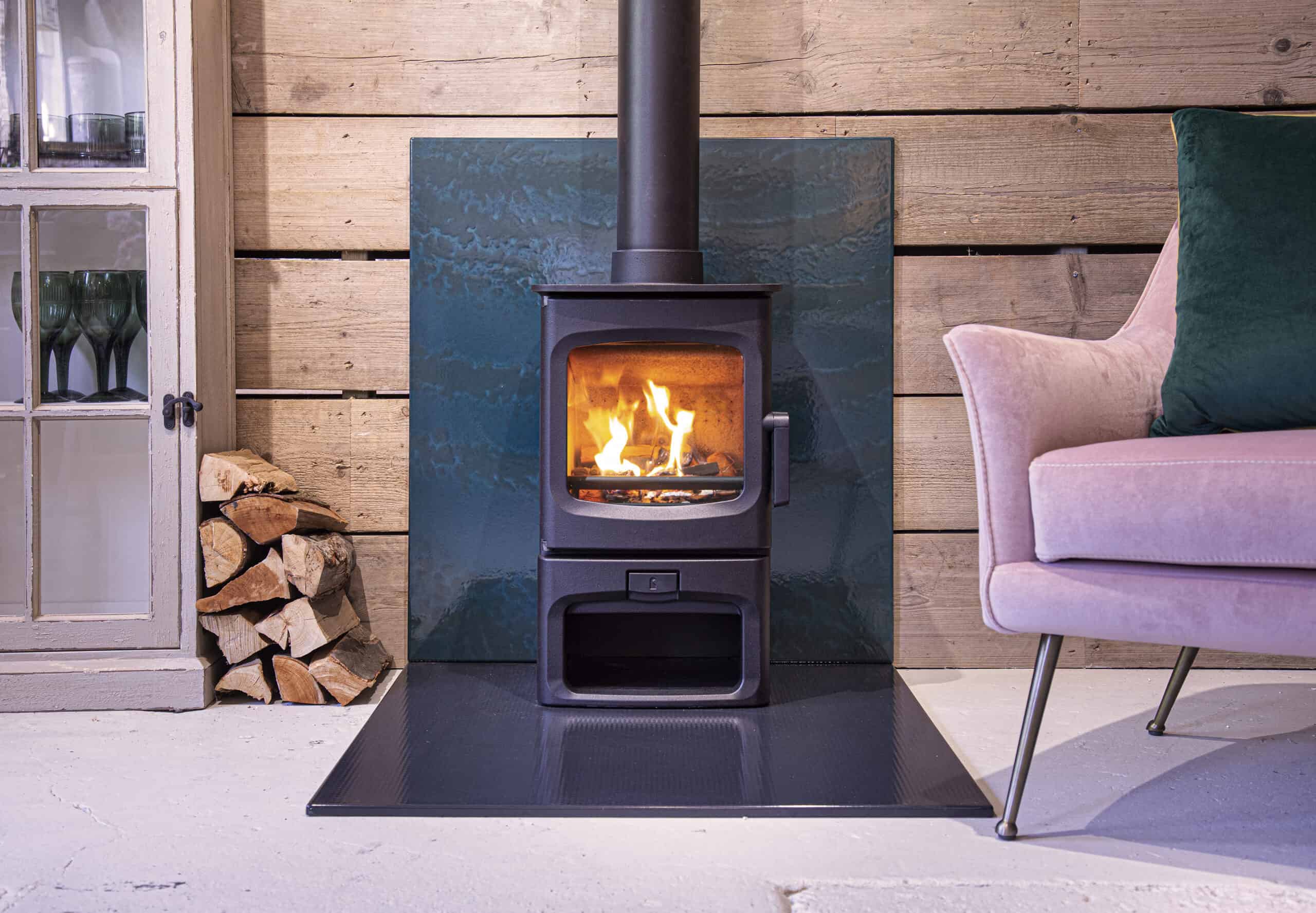 Protect your home and benefit from redirecting your stove's heat back into the heart of the room, further improving efficiency. Vlaze, our sister company, offer the original and best heat shields on the market. Check them out here!
Source your wood early
Demand for wood has skyrocketed recently and this may have knock-on effects. It is prudent to source your wood from a local supplier now, so that you are winter ready and avoid any potential price rises as we approach the colder months.
Reduce your fuel bill – free sources of wood for your log burner!
1. Fallen trees
After a storm, fallen trees and branches become available which, with permission, you can collect, dry out/season, and use for firewood.
2. Industrial off-cuts
Woodworkers, sawmills, and joiners near to your home are worth contacting to find out if they ever have any off-cuts of untreated wood that they need to get rid of.
3. Freecycle
People often advertise free wood on sites like Gumtree and Freecycle for those who are happy to collect it.
Wherever you source your wood from, it must be untreated and free from paint, finishes or other potentially harmful substances. Also, check wood with a moisture meter and do not burn it unless it has a moisture content of less than 20%. This reduces harmful emissions and will increase the lifespan of your stove. For a list of the best types of firewood check out our Firewood chart.
Save energy by cooking and heating at the same time
As well as heating your home you can save energy by cooking on your stove at the same time!
For some recipes, our blog has some great ideas…
If you want to take your stove cooking to the next level, keep your eyes peeled for our autumn stove release. The Charnwood Haven is a brand-new compact wood-burning cooker to celebrate Charnwood's 50 years in business.
It has the functional charm of a rustic range cooker, but with all our clean burn technology included. It provides a 6kw output and comes equipped with a well-sized oven and large hot plate enabling you to cook with a wide array of pots, pans, and trivets. The integrated thermometer allows for greater temperature control and cooking accuracy. We are all excited by this one!
Fuel/Energy independence = Positive wellbeing!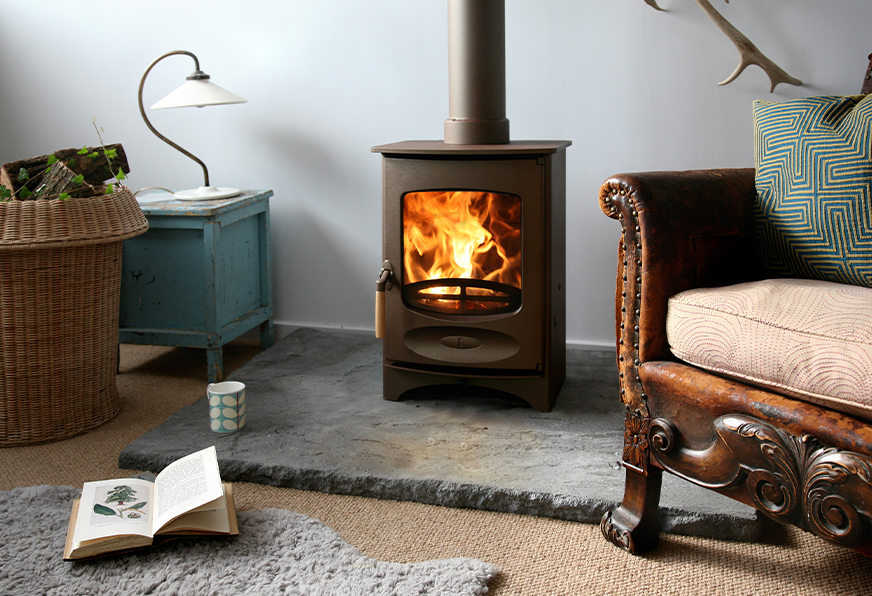 Another significant reason to get a wood-burning stove is to protect yourself from fuel supply disruptions. Whether it is the result of a localised storm or wider national disruption, it is extremely reassuring to know that you can warm your home and cook food for the family with your trusty stove!
Here are some customer responses to our Wellbeing Survey in relation to owning a stove:
"We love our log burner. It makes us feel warm, safe and secure. It helps heat the whole house, which has proved an asset in power cuts. Nothing beats sitting in the living room with the warmth of the fire in the depths of winter."
"Lighting the stove after a walk by the sea during winter is a joyful experience. Has helped to alleviate the worry of power failures as we live in an area prone to electricity outage during bad weather. Just knowing that we have our lovely stove for independent heat and low light is fab."
"Back up for central heating given no of power outages,"
"As an electric only house, we wanted a plan b during a power cut to heat the home"
"more efficient than previous coal fire and, in extremis, if gas supply fails or is too expensive, will provide warmth."
"Having a wood burner means I am less vulnerable in power cuts. I can still have heating, boil a kettle, cook food if I need to."
The peace of mind our customers get from knowing, whatever the weather or economic or political climate, they can access fuel locally to heat their home is huge.
Click here to read about the other wellbeing benefits of owning a log burner!
__________________
We believe our products can contribute positively towards combating the environmental and cost of living challenges we face. Therefore, we are passionate about sharing ideas to be proactive and turn anxiety and uncertainty into confidence and optimism. We hope you will consider sharing this article with someone you think might benefit from reading it.