Glamping's popularity continues to soar with a range of luxury camping options available across the UK. Log cabins, yurts, shepherds' huts, and other 'tiny home' accommodation are fantastic ways to bring comfort and relaxation to the most beautiful locations. Many owners are adding wood-burning stoves as trends continue to show they are a key consideration for holidaymakers. After all, there is nothing quite like staying in an idyllic spot with the radiant heat of a wood-burning stove to get you into holiday mode. In response to this rapid growth in glamping stoves, HETAS has released new regulations for installation in leisure accommodation units. Here's an overview of some of the key points raised and why, with the release of Charnwood's Aire 3 Stove Pod package, we have the perfect glamping solution.
Suitability
When choosing your glamping stove, bear in mind that HETAS regulations state that "Only appliances that have been appropriately tested to the required CE type test standards (i.e. BS EN 13240) and have a measured gross efficiency of above 65% shall be installed.''  
Size
It is also important to make sure that the wood-burner you choose has sufficient output for your space, but not be too large that it negatively affects emissions and efficiency. As a general guide, a 3kW output heats a 30m3, 5kW a 60m3 space, while a 7kW output will heat approximately 90m3. Between 3 and 5kw is an ideal output for most leisure accommodation, however, we recommend speaking with your supplier to ascertain what best suits your needs.
Efficiency
Whilst a minimum efficiency of 65% is currently required, in light of DEFRA's recent announcements and with more changes coming in 2022, it makes sense to choose an EcoDesign ready stove. This future proofs your investment, while also being the eco-friendly and cost-efficient choice. The majority of Charnwood stoves are EcoDesign ready and accredited with the highest 5 Star ClearSkies rating.
Clearances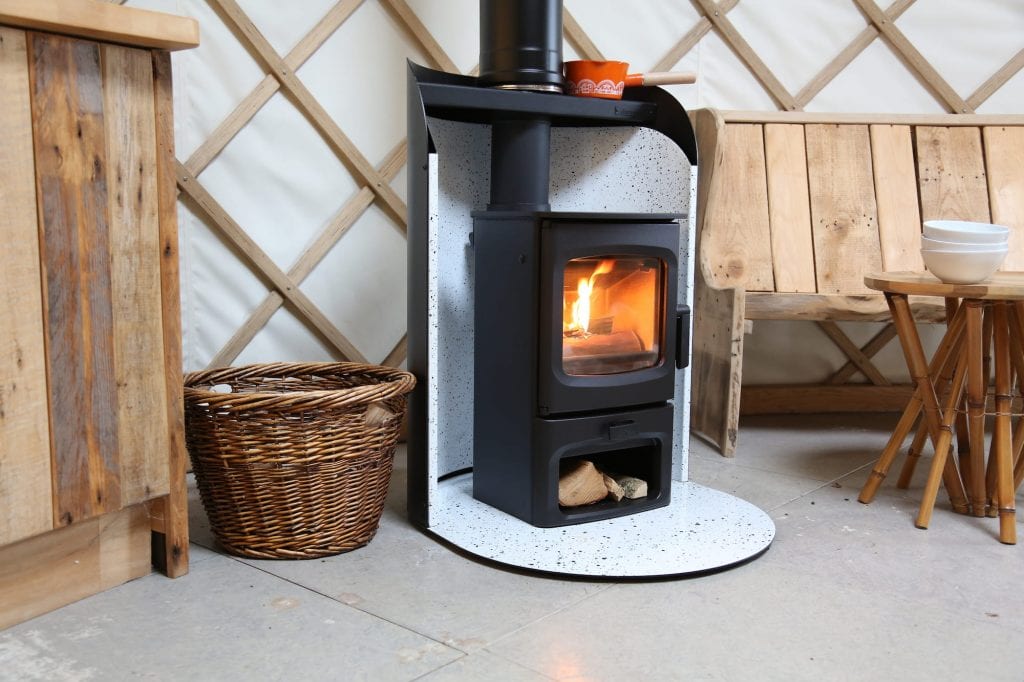 Each stove manufactured undergoes CE type testing to verify the safe distances required from your stove and other surfaces. Due to the limited space in most glamping setups that means these minimum distances cannot usually be obtained. Therefore, heat shielding is required to protect and ensure any adjacent combustibles do not rise above 85C.
Hearths
Situated underneath the stove, hearths should extend 150mm on the sides and 225 mm at the rear and front of the appliance. They should be made of suitable non-combustible material and provide sufficient support for the weight of the stove and chimney system.
Shields
If your stove's guidance on clearance is below 700mm, it is eligible for use with a heat shield in your leisure accommodation. A heat shield can reduce the safe distance required for your stove to just 95mm and in the case of Charnwood's Stove Pod and Aire 3 package this is reduced to just 50mm – a significant space saving.
HETAS state a heat shield should extend to the extremities of the hearth (150mm on either side) and 200mm above the top surface, without obstructing the flow of cool air behind the shield. A gap of 25 mm should be maintained between the shield and the combustible surface.
For more information on all the regulations, we recommend speaking with your nearest supplier and checking out the HETAS website.
Aire 3 Stove Pod Package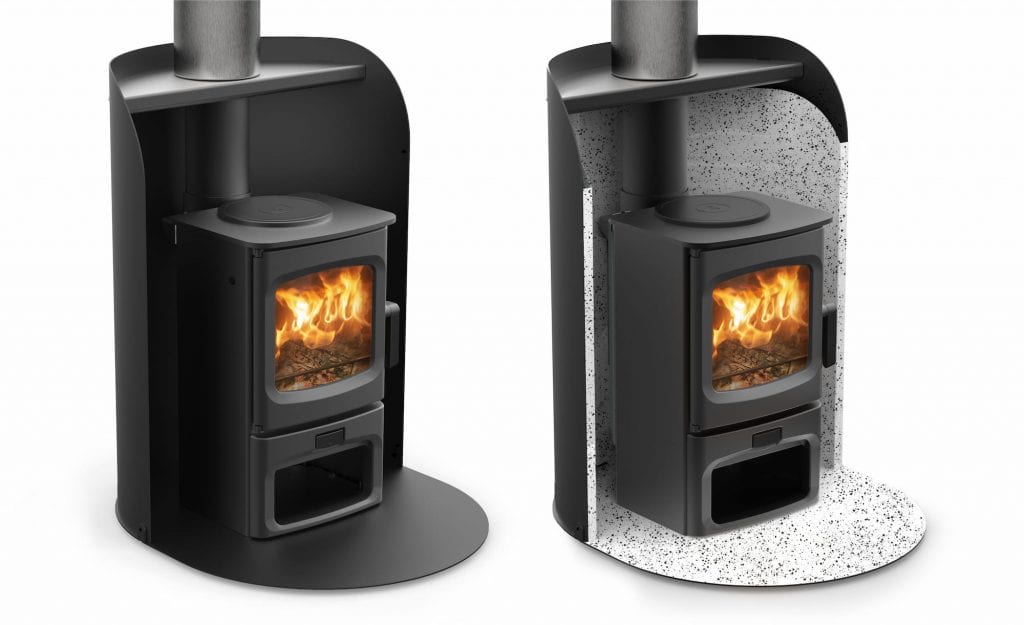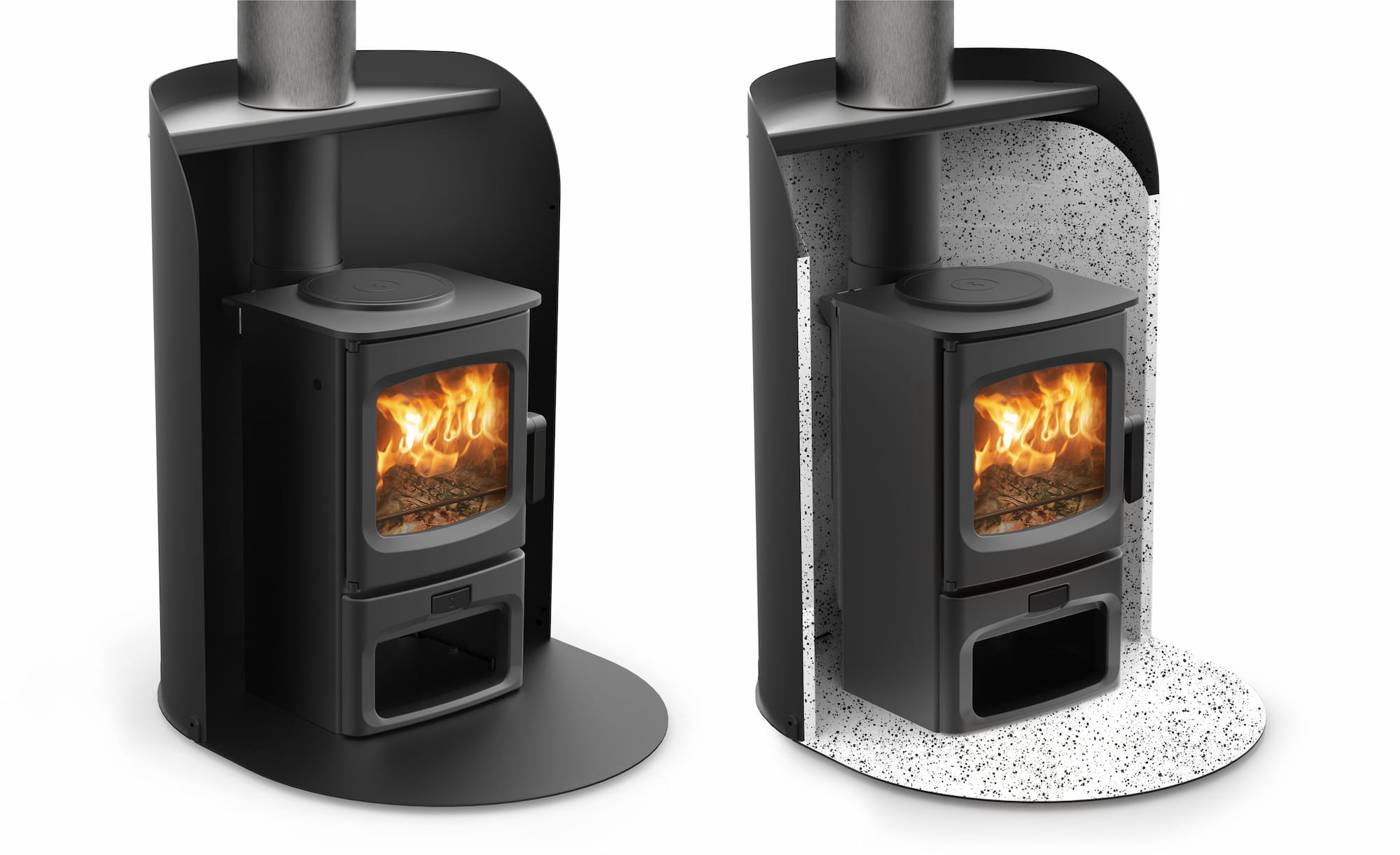 Whilst there are a number of regulations to be mindful of, Charnwood has taken the headache away by creating the perfect glamping stove package, allowing you to easily meet all HETAS and Defra regulations. It exceeds efficiency and clearance targets and is designed to be quick to fit and provide many years of good use.
The Aire 3 is one of the most efficient stoves on the market, demonstrating 86% efficiency on independent tests. It's one of the few glamping stoves that is EcoDesign ready and has been given a 5-star clearSkies rating – the highest possible award. With a 2-5 kW output, it is the perfect size for most leisure spaces and provides a crystal-clear burn. The glass door is designed to maximise the viewing area and your guest's enjoyment of the fire. It also benefits from being easy to operate, with a single air control and removable ashpan, which lends itself to guests that may not have previous wood-burning experience.
The stove pod provides a sleek, safe, and secure enclosure and is designed for ease of installation. We recommend this is carried out by a heating specialist, however, the Stove Pod's unique design means that you will save on time and labour when compared to alternatives.
The Stove Pod is a freestanding unit that doesn't require affixing to any walls which is particularly important in a yurt and other glamping accommodation. It is an exceptionally sturdy design and will provide years of use, even from the most inexperienced holidaymakers. The internal shelf supports the flue providing far greater stability and the curvature of the design focuses heat into your space.
The steel skin is magnetic and Charnwood offer a number of tools and pots that can be attached, while the flue support incorporates a handy warming shelf for plates, pots and pans. It is available in a matt black hammered powder coat with the option to add a VLAZE vitreous enamel liner for a stylish, easy to clean finish.
______________________________
We welcome the new glamping stove regulations for which the Aire 3 Stove Pod package offers a perfect solution. As with all Charnwood products, beauty and longevity come as standard, but it is the intelligence of the design that makes the Aire 3 Stove pod package the ideal choice for the glamping stove market.
For more information do get in touch with your local supplier. For the latest news follow us @Charnwood.
FAQs
Can you put a wood stove in a yurt?
Absolutely! They are very popular as they provide a comfortable, radiant, source of heat while being extremely beneficial for one's wellbeing. A stove pod is an excellent stand-alone option as it is far easier to install and doesn't need to be affixed to the tent. We recommend speaking with your supplier or heating specialist about installation.
Can you put a wood stove in a Tiny House?
A wood-burning stove is a great option for a Tiny house. Due to the limited space, you will need to consider a heat shield and hearth to adhere to HETAS regulations. A stove pod would be an ideal option as it's easy to install and reduces clearance requirements to an absolute minimum.
Can you put a wood stove in a Shepard's hut?
A Shepard's hut heats up quickly and benefits from the warm radiant heat of a wood-burning stove. It's a perfect choice for those who are living off-grid and want a sustainable and eco-friendly fuel source.
What is considered a non-combustible wall?
While brick, metal, stone and tile are non-combustible, many walls include some combustible elements, such as wood, in their underlying structure. If enough heat is transmitted through the non-combustible part of the wall to the vulnerable underlying material, it could present a fire hazard. To prevent this a heat shield is your only option.
Do you need planning permission to install a wood-burning stove?
No, you do not need to have planning permission. However, you must adhere to DEFRA controls and HETAS Regulations. We recommend consulting with your supplier/heating specialist for advice.
Does having a wood stove increase insurance?
Not necessarily. Your insurer may consider your wood stove in the same category as a space heater or other similar heating appliance. Consult your insurer and if there is any increase, it is likely to be small.