At Charnwood we feel strongly about caring for the environment. We consider design, packaging, transportation, the materials we use and how we handle them, all with a view to being as environmentally friendly as possible. With far better eco credentials than oil, coal or gas, a wood-burning stove is an opportunity to make a positive environmental impact. However, to maximise this, it's important to use your stove the right way.
Whether you are a new owner or eagerly awaiting your new order's arrival, it's wise to do a little research before lighting your first fire – however tempting it may be to strike that first match! In this blog we will discuss the essential stove tips that will give you a significant head start on your journey into the wonderful world of wood-burning — enabling you to optimise your stove for both the environment and your personal satisfaction.
Choosing your wood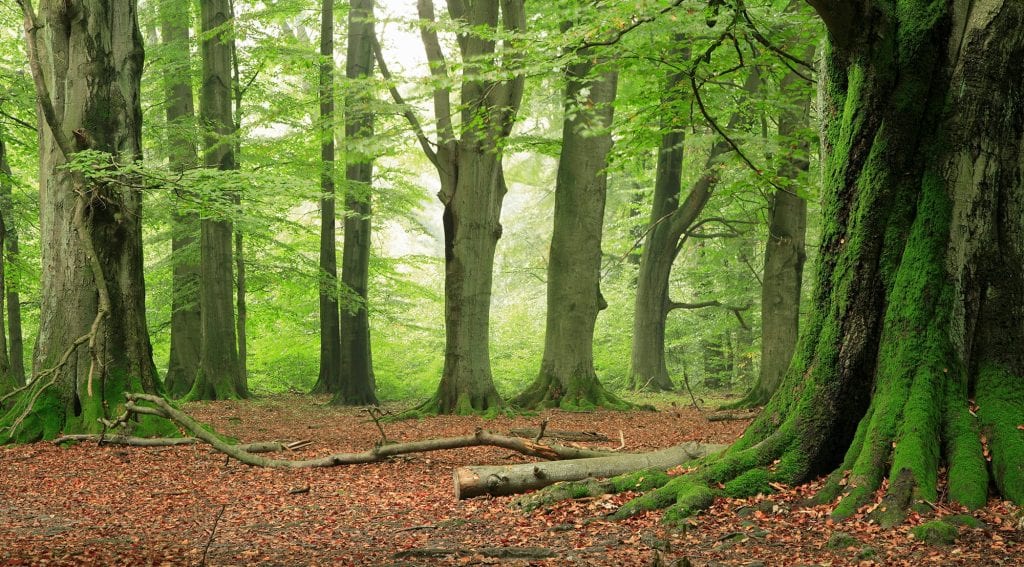 A key factor in creating that warm, cosy fire is the choice of wood you burn. Charnwood stoves are designed to run on seasoned or kiln-dried wood with a moisture content of less than 20%. This is important because it produces a significantly cleaner and more efficient burn.
Hardwoods such as ash, birch, beech, or oak are renowned for burning hot, clean and for longer periods. Softwoods such as fir, pine and sycamore can be used but will burn faster with moderate heat output. Freshly cut logs generally contain over 60% water and should be dried for 18-24 months before the wood is ready to burn. Here is a useful chart that gives more detail about different species and their various qualities.
Find out more about the types of wood to use for your wood-burning stove.
There are four key stages to seasoning wood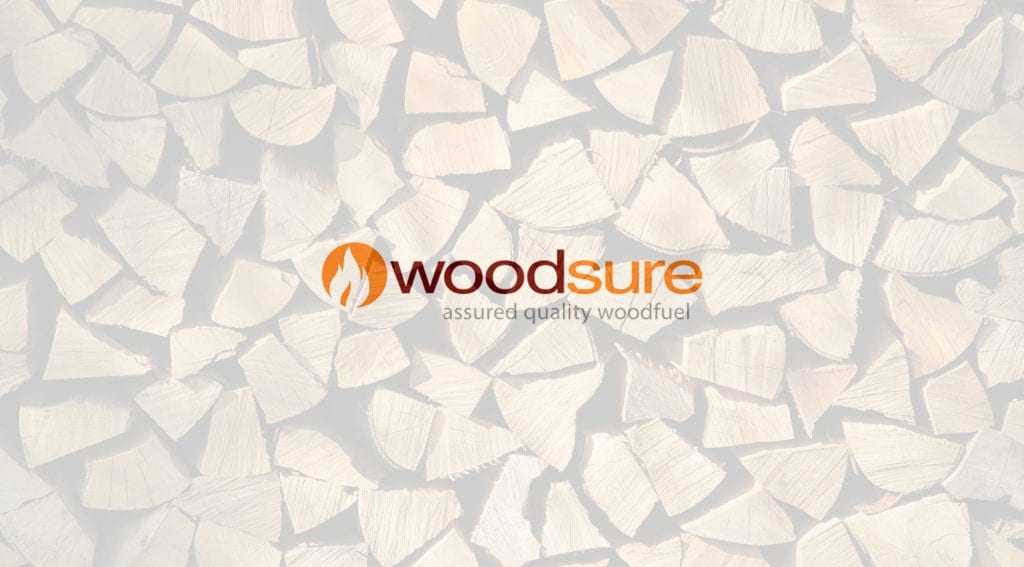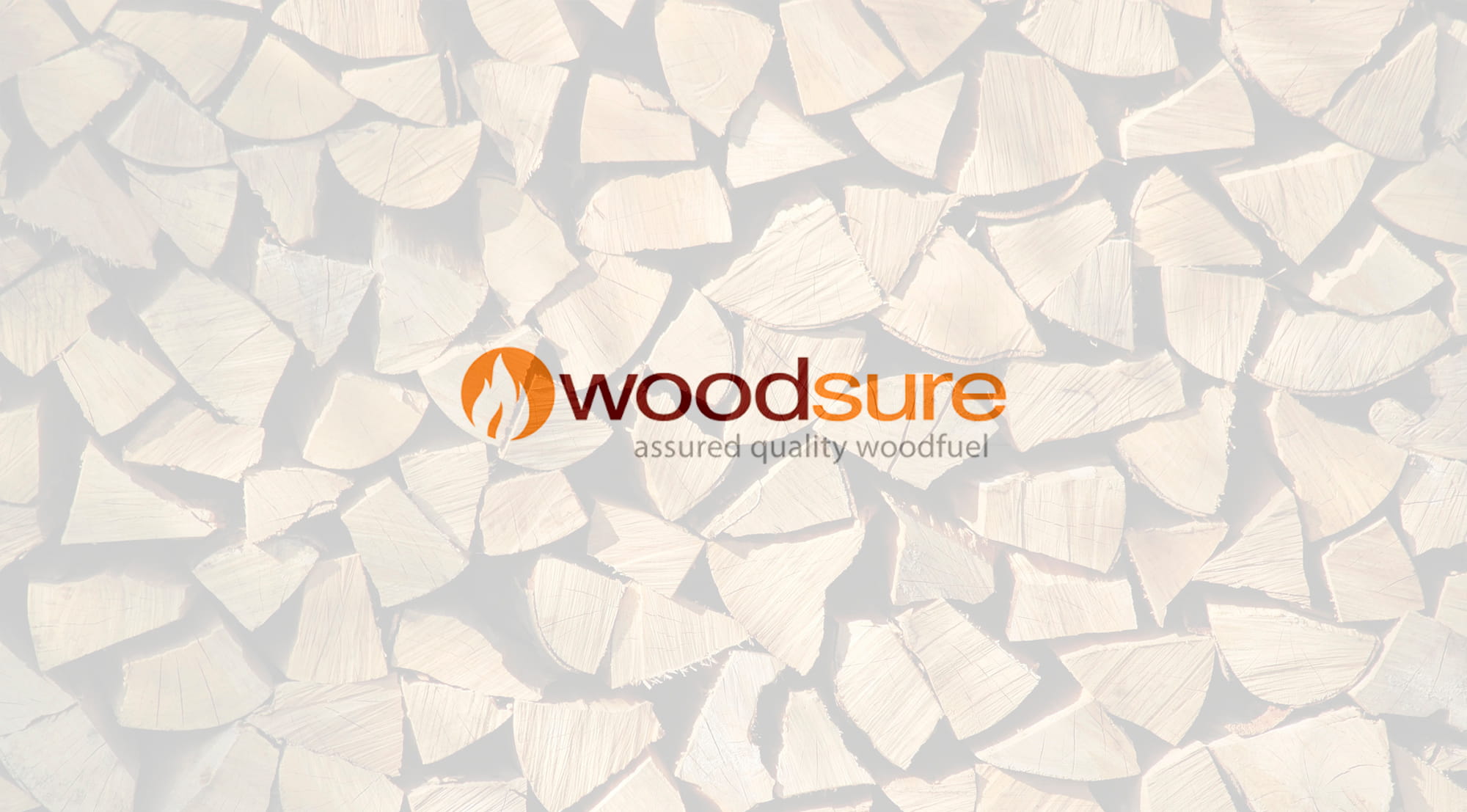 SPLIT wood into logs in a size to suit your stove no larger than 15cm (6") in diameter. Split some smaller pieces to use as kindling.
STACK the wood in a place that gets plenty of sun and wind. A pile of wood may rot before it has time to season, so make sure the logs are stacked in a way that allows air to circulate. Ideally, keep the stack off the ground and away from the house. Never stack logs above head height to prevent injury from falling logs.
COVER the stack to protect it from rain and snow. You can cover just the top, or the sides as well – just make sure the air can get in and that moisture isn't getting trapped.
STORE the wood for 18-24 months or until the moisture content is below 20% (you can test this with a moisture metre). It's a good idea to bring wood inside two or three days before you intend to burn it to make sure it's properly dried out and ready to use.
Find out more about how to successfully season wood.
Kiln dried wood
This is another widely available alternative and an excellent choice! The wood is cut, split and dried in large ovens, which speeds up the seasoning process. Look out for the Woodsure Ready to Burn label which guarantees a moisture content of 20 % or less.
What not to burn
If you are a new owner, it's tempting to burn almost anything you can get your hands on, however for environmental and health reasons we strongly recommended against this. What to avoid requires a certain amount of common sense as the list is long, but here are a few key ones to be mindful of.
-Plywood offcuts, chipboard and MDF are not advised due to the glues used to make them.
-Avoid old/recovered wood that has been treated or old painted wood as these can be toxic.
-Do not burn rubbish.
-Printed papers are coated with chemicals and can cause troublesome ash deposits.
-Natural or synthetic fibres, such as fabric, burn too fast and can be toxic.
-Any solvents or chemicals and substrates potentially exposed to them.
Lighting your fire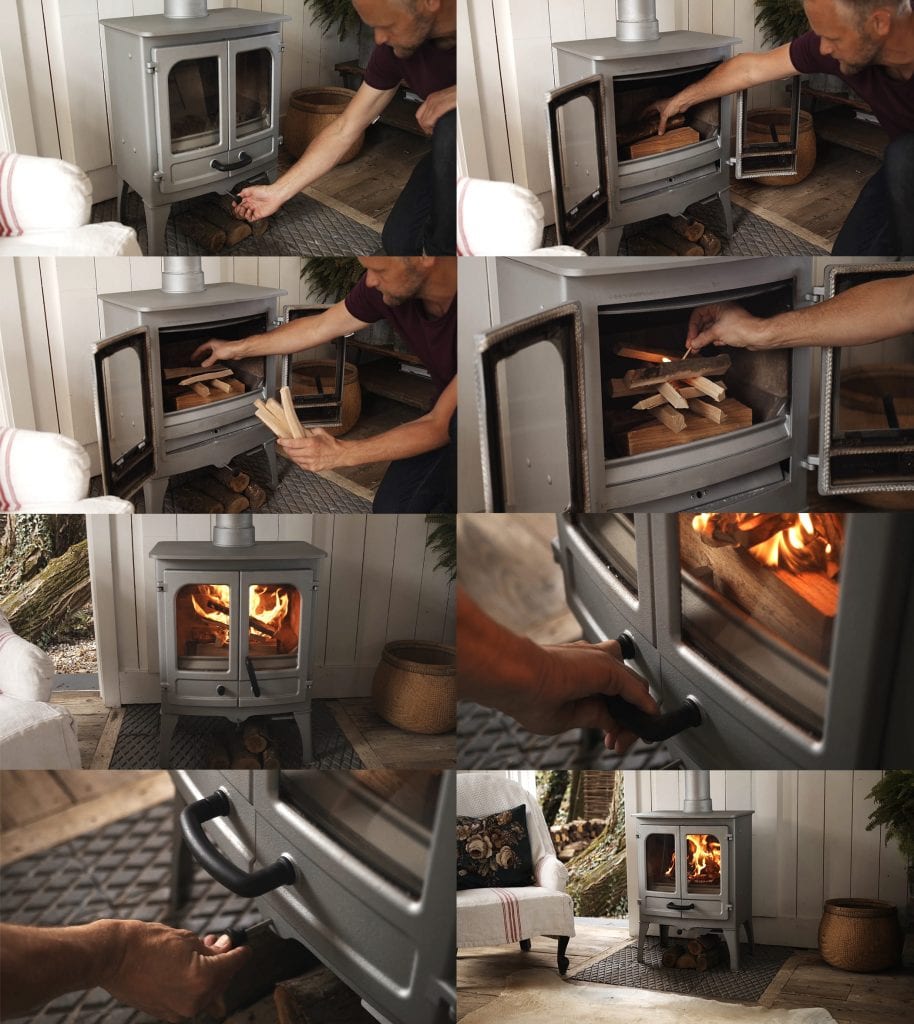 Now you have the right wood for your needs, there are several stages you should know to building and lighting a successful fire in your stove. Following our four simple steps when making your fire will allow your stove to run at maximum efficiency and with minimum emissions.
1/ Clear the grate of ash then place 2-3 smaller logs on the stove bed. On top of this build a 'Jenga style' stack of 6-8 kindling sticks and place a natural fire lighter inside.
2/ Fully open the air control for maximum air intake and a quick and easy ignition. Light the fire lighter.
3/ Close the door but leave it slightly ajar. This helps to heat the chimney flue for a clean burn. Once the fire is burning well close the door and reduce the air control.
4/ Every time a log is added open the air control again until the fire is burning well and then return the air control to normal. Re-fuel little and often.
Maintain your stove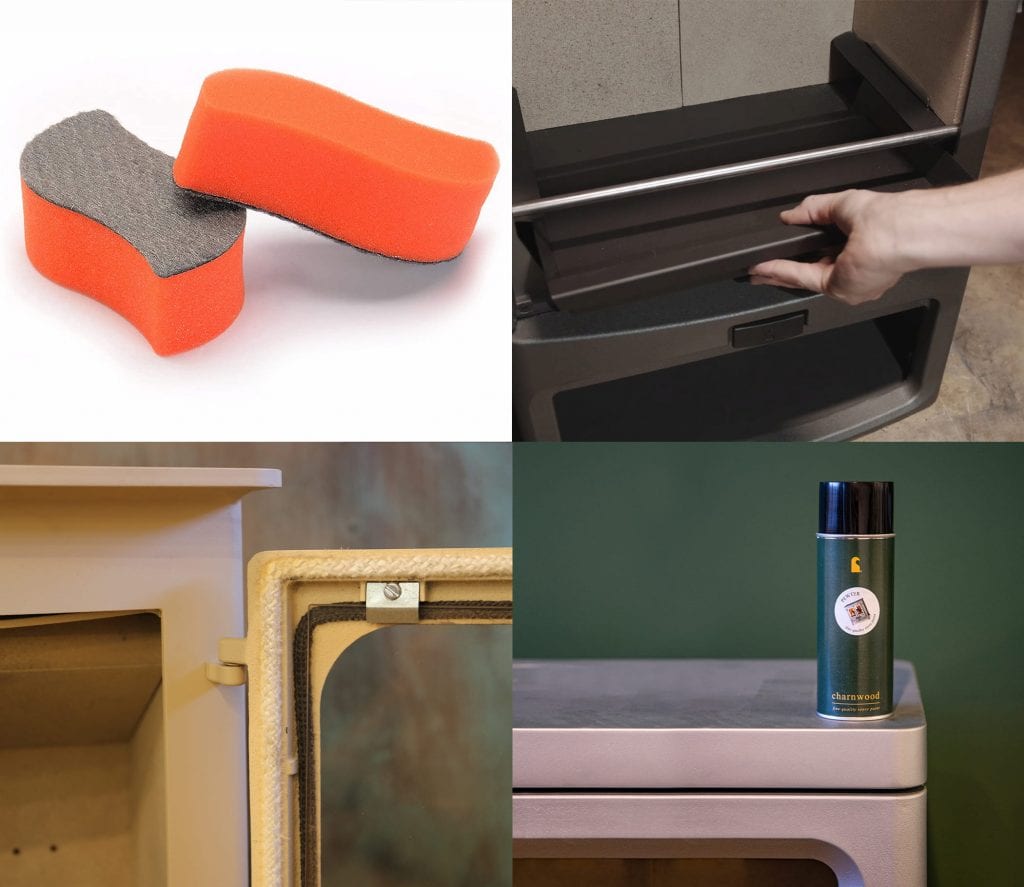 The winter months are when your wood burning stove will see the most use. Regular maintenance will ensure your stove burns safely and efficiently while giving you many years of service.
CLEAN THE GLASS
If soot accumulates on the stove glass, we offer an effective Atmosfire dry wiper for cleaning. For any stubborn stains you can use a stove glass cleaner or ceramic hob cleaner but avoid using any abrasive cleaning products.
CLEAN THE SURFACE
When it comes to cleaning the exterior surface of your stove and the surrounding area, you can't go far wrong with a soft brush and a damp, lint free cloth. It is important you only clean your stove when it is unlit and cool to the touch.
EMPTY THE ASH PAN
When burning wood, it is helpful and effective to start your fire on a bed of wood ash but avoid letting the ash build up too much. When your stove is not in use empty out the ash pan and firebox completely.
INSPECT DOOR SEALS
Take the opportunity to regularly check the rope seals on the doors and around the flue to ensure your fire box is airtight and the doors close firmly. A well-sealed stove will burn much more efficiently and effectively.
A FRESH COAT OF PAINT
For a quick touch-up or a complete colour change we offer cans of our high temperature stove paint in the 8 Charnwood colour options. This is a simple yet brilliant way to give your stove a new lease of life.
SWEEP FREQUENTLY
It's important to keep your flue clear of blockages and soot and we recommend you have your chimney swept at least once a year. A Charnwood stove is fitted with a drop-down throat plate allowing you to sweep through the appliance with minimum mess.
Enhance your stove experience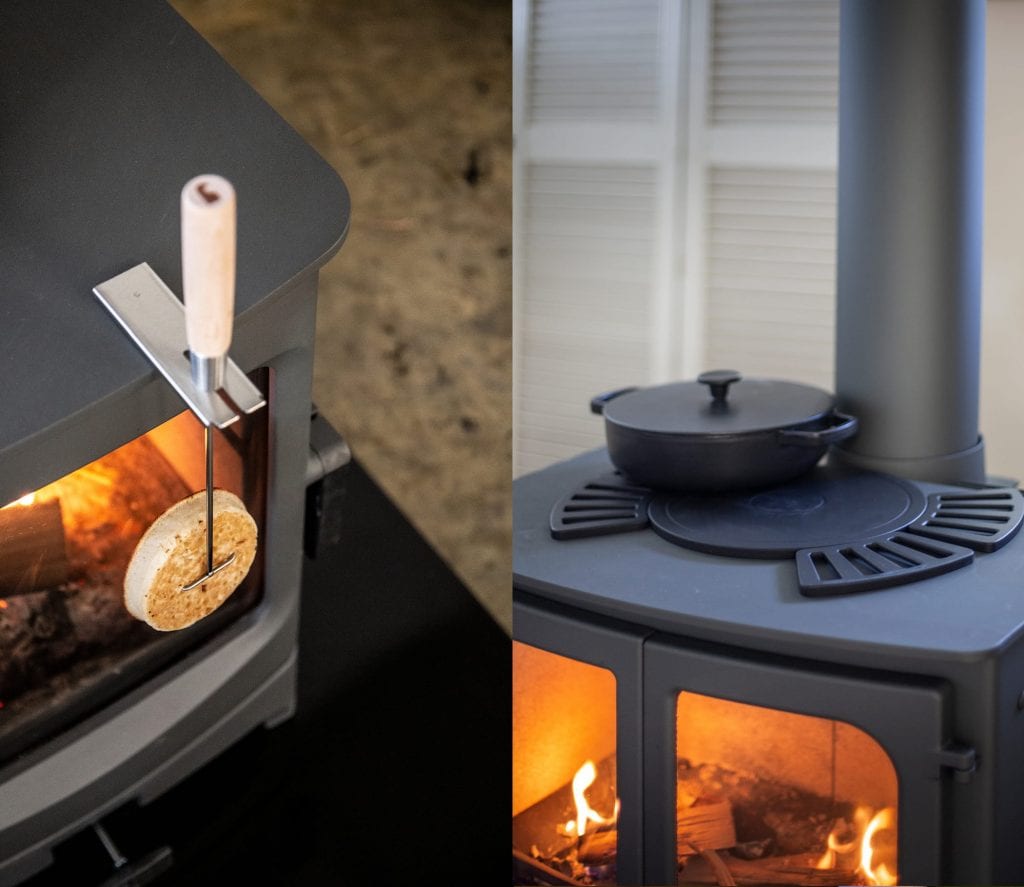 Charnwood offer a wide range of accessories designed to optimise the performance of your stove and enhance your fireside experience.
COOKING PLATE
Available for most of our models this cast-iron plate replaces the blanking plate on a Charnwood stove where a rear outlet has been fitted to create a highly effective hot plate for cooking. It comes complete with 4 trivets.
TOASTING FORK
The perfect gift for any stove fanatic. Simply place the magnetic holder onto the stove top and suspend the fork in front of the glass. The fork and holder are made from stainless steel with a turned beech handle.
You can find our full range of accessories along with spare stove parts on our website charnwood.com.
Bodj Fireside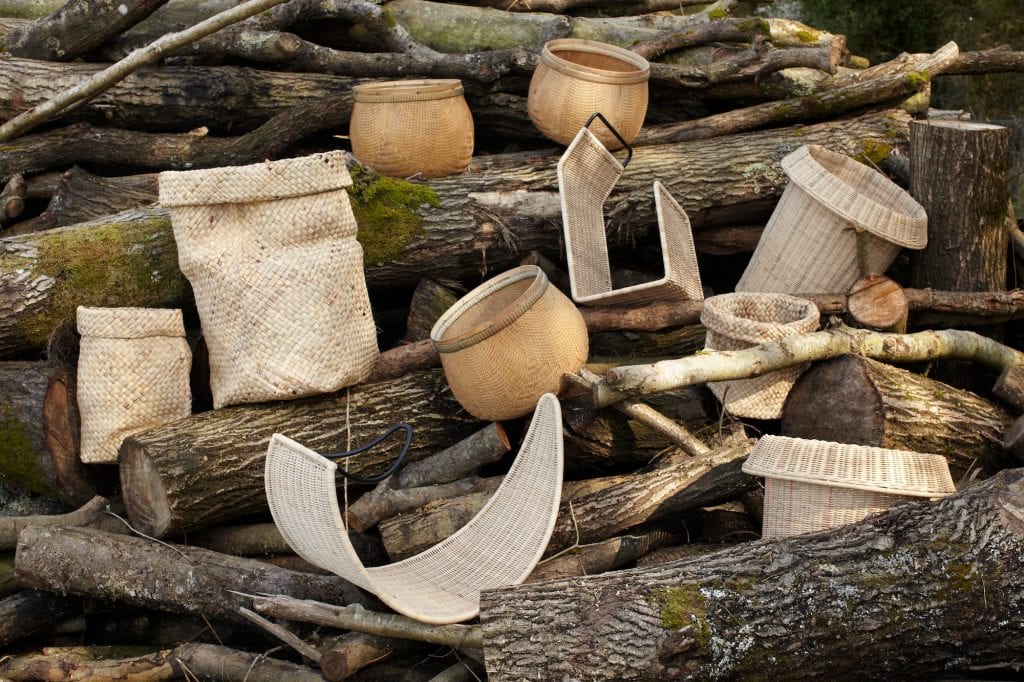 Our sister company Bodj offer a beautiful range of fireside accessories which are a perfect complement to any fireplace. From elegant log baskets to the fireside tools needed to help maintain the daily glow and warmth emanating from you stove. It's award winning design, handmade by experienced craftspeople, using sustainable and locally sourced materials.
Why Choose Us?
Charnwood Stoves is a leading manufacturer of wood burning stoves, and we have over 30 years of experience in the industry. We offer a comprehensive range of tips and advice on how to use your wood burning stove safely and efficiently. Our tips are based on the latest research and best practices, and they are designed to help you get the most out of your stove.
Our team are committed to providing you with the information you need to use your wood burning stove safely and enjoyably. Here are some of the reasons why you should choose Charnwood for wood burning stove tips:
• We are experts in the field of wood burning stoves.
• Our tips are based on the latest research and best practices.
• We are committed to providing you with the information you need.
Simply get in touch with our team today.
View the whole range at Bodj.co.uk
____________________________